The Sandbox Partnering with Games Industry Giant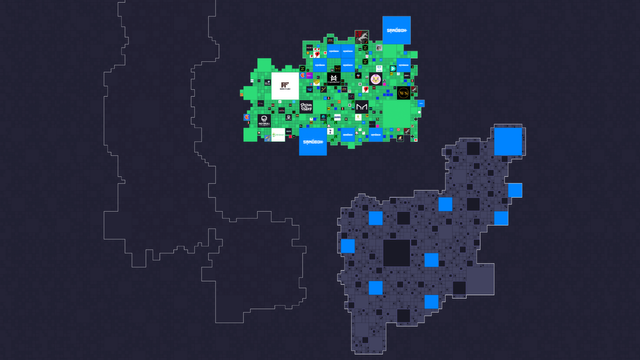 The Sandbox will be partnering with a giant from the video games industry. Considering the nature of other partnerships with blockchain companies, it's likely that the game company will build a game experience within the virtual world of The Sandbox. They teased this partnership in a blog post about the announcement of the third land sale.
Within the gaming industry there has been some talks about blockchain gaming. The Japanese publisher Square Enix has shown interest in the past, but we consider their involvement not very likely. However, there are two games companies that come to mind, because The Sandbox is a French studio and part of the Animoca Brands family.
The Sandbox already has quite close ties with the traditional games industry. Mother company Animoca Brands already has a partnership with Atari to add blockchain elements to Rollercoaster Tycoon Touch. Perhaps Atari, which lost most of its status in the past two decades, could be looking at blockchain gaming as a way to revive its business and restore its former glory.
The other option would be Ubisoft. The French games publisher is one of the biggest in the industry. On top of that, both Ubisoft and The Sandbox are French companies. In addition the company behind Assassin's Creed and Just Dance has been investing a lot of effort into research about blockchain games. The company is also involved in Ultra, a blockchain-powered games distribution platform.
The Sandbox third LAND sale
The third land sale will start on Tuesday, March 31st, 1PM GMT. This time the game studios will sell ten percent of its total land supply, which means 12.384 parcels will be available on a first come first serve basis. Ten percent of the available LAND will be reserved for community giveaways.
The previous land sale sold out within a week. Last month 6192 parcels of land, which is five percent of the total land, generated approximately 185 thousand dollars in revenue. Studio boss Sebastien Borget reacted excited on the success of this second land sale. "A big thank you to everyone for your support. Let's build together an amazing blockchain virtual world."
Changes to LAND sale
For the third land sale, The Sandbox will need to generate a lot more hype. That's probably one of the reasons that they will introduce referral links. In addition land coordinates can now be shared, allowing users to easier show off their land. Land buyers will also be able to select multiple land parcels at once.
In addition the team has added more estates to the map. Which means there are less individual LAND parcels.
The Sandbox third sale includes:
Individual LAND parcels: 2,538
3x3 Estates: 750
6x6 Estates: 50
12x12 Estates: 5
24x24 Estates: 1
---
Posted from my blog: https://www.nederob.nl/2020/03/12/the-sandbox-partnering-with-games-industry-giant/
---