SkyWeaver Receives 5 Million Dollar Investment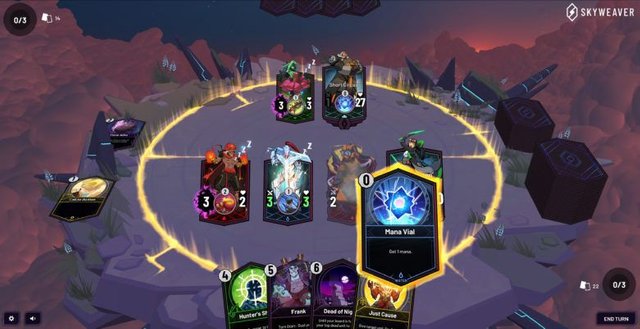 Horizon Games has received an additional 5 million dollar investment to finalize their upcoming trading card game SkyWeaver. The investment round was led by Initialized Capital and supported by ConsenSys, CMT Digital and Regah Ventures. SkyWeaver is currently tested in a closed beta and will launch later this year.
Trading card game SkyWeaver is currently being tested in a private beta. The game has over 12 thousand testers and over 90 thousand people on a waiting list. Over the past months the studio has been balancing the game and making all kinds of improvements to the user interface and user experience.
This month SkyWeaver will launch Season 0. This will add 500 unique cards. At the end of the season the top 1000 players will earn digital rewards, which can be traded on a public marketplace when Season 1 starts later this year. Those interested can request closed beta access on Discord. Or use one of my three invite codes: Code 1, Code 2, Code 3.
One of the most wanted items in SkyWeaver are the so-called gold cards. The only way to acquire gold cards is by being among the best SkyWeaver players on the weekly leaderboards. This means that players have to win them, or buy a gold card from the public marketplace.
Mainstream needed for commercial success
So far several blockchain games are having commercial success without even hitting mainstream. Games like Gods Unchained and Axie Infinity are standing out from the crowd. Just like investors did to SkyWeaver, the studios behind these games have also gotten millions of dollars of investments. The big promise is of course that these games will go mainstream.
True commercial success will only be reached once one million gamers start playing these games. Currently there are only a couple of thousand players per game.
Together with SkyWeaver there are other trading card games looking for the same success. Earlier this week Tides of Magic launched their open beta test, even though that game is more tailored towards the blockchain gaming audience. Further more there's Gods Unchained, Splinterlands Untamed and more obscure titles like Dark Country. Check out this list for 28 blockchain games to keep your eyes on.
---
Posted from my blog: https://www.nederob.nl/2020/03/10/skyweaver-receives-5-million-dollar-investment/
---