Gamers Spent Average $816 on F1 Delta Time crate sale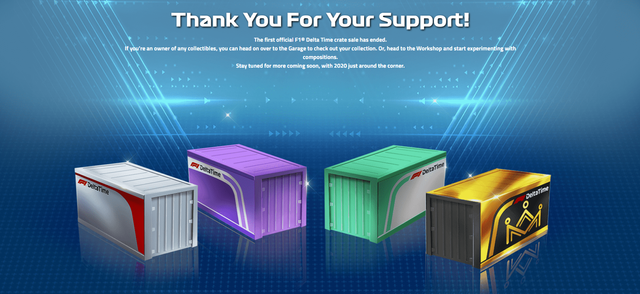 Gamers and investors have spend 816 dollars on average on the F1 Delta Time crate sale that ended on Tuesday. Overall Animoca Brands sold 2375 crates, bringing in a total of 364.270 dollars. As a result the blockchain gaming company managed to sell a little under 37 percent of their total crate supply during the pre-sale that started on February 25th.
Even though F1 Delta Time uses the official Formula 1 license, the pre-sale didn't reach mainstream numbers of users. In total only 446 unique wallets bought these crates. Those are not the numbers you would expect. In 2019 Formula 1 attracted 1.9 billion television viewers worldwide.
The biggest Formula 1 countries in the world in terms of cumulative audiences are Brazil, Germany, Italy, the United Kingdom and The Netherlands. According to Formula1.com Poland and the Middle East and North Africa have seen a big increase as well. Three out of these countries have quite a strong adoption of cryptocurrencies and blockchain technology, and yet there are less then 500 people who bought a crate.
Too expensive pre-sale
Perhaps the minimum investment into F1 Delta Time was a bit too much. The cheapest crates cost 18 or 20 dollars, depending somebody's home country this amount can be 'a fun buy' or 'quite a serious investment'. The legendary crates went for 450 dollars in their first week, and 500 dollars in the second week. For countries outside of the Top 20, one crate has the same value as 20 percent of the average monthly salary. This would make the pre-sale quite expensive for the majority of the world population.
Another problem is probably F1 Delta Time's lack of product. They've got a website where investors and gamers can buy and collect cars, car parts and drivers. However, information about their upcoming game is still missing in action. As soon as their game is live, gamers will be able to actually use their acquired tokens. This will drive interest into a crate sale, something that was now clearly missing.
What is F1 Delta Time?
F1 Delta Time is one of the officially licensed sports games from Animoca Brands. In this blockchain game players can collect virtual cars, drivers and car parts. Players can sell or trade these with other gamers. This element of digital collecting is already live, but we're still waiting for the actual gameplay.
This doesn't stop gamers and investors from speculating. Some of the very rare vehicles have sold for 16 thousand dollars through an auction. Animoca Brands already made thousands of dollars through a variety of auctions.
Competitive racing will be a core element of F1 Delta Time. Each car has characteristics unique to the vehicle. Acceleration, grip, top speed, and luck are the elements that will influence the car's performance. Whether gameplay will happen from a first person perspective, third person perspective or bird's view has not yet been revealed.
F1 Delta Time will launch in the Spring of 2020.
---
Posted from my blog: https://www.nederob.nl/2020/03/10/gamers-spent-average-816-on-f1-delta-time-crate-sale/
---