9 Lives Arena Integrates Enjin Wallet in New Update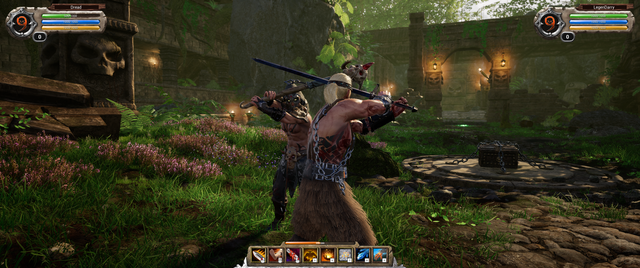 The latest alpha development update for the competitive PVP combat game 9 Lives Arena introduces Enjin Wallet integration. This means that players can start creating digital items from resources gained within the game world, and use owned weapons and gear while playing the game. Those who want to play an early version of the game, can buy 'Founder Pack 7' from the store to gain access.
Digital items can also be bought and sold through the open market. However, this doesn't guarantee alpha access. One of the cheapest items is a Viking Helmer, selling for only 50 ENJ ($2.63). The most expensive item is a sword called Molten Core, selling for 35 thousand ENJ ($1745).
Those who call gaming their second home, might recognize the name of that expensive sword. Molten Core is one of the most legendary raids in the history of the massively multiplayer online role playing game World of Warcraft. This reference is not without reason, because gameplay is very much inspired by the early years of PVP in World of Warcraft.
Game studio Touchhour labeled this version of the game as alpha 0.4. Even though the game isn't even in beta yet, 9 Lives Arena is already one of the most competitive games in the blockchain gaming scene. The game is one of the first games to embrace Enjin into its development.
What is 9 Lives Arena?
9Lives Arena is an one versus one, skill-based PVP role playing game. It features permadeath, persistent progression, resource gathering, and item crafting. In essence, this game is pretty hardcore.
To compete on the leaderboards players need to fight in the 9 Lives Arena. Here every victory counts and losing means the loss of a life! When players eventually run out of lives their character dies and turns into a statue. This statue displays all achievements and can be placed in a training arena. The player account inventory is persistent and shared across all character slots.
Players are totally free to develop their own character. They can choose out of five different types of fighters: Viking, Barbarian, Samurai, Gladiator and Ancient Atlantean. In addition any weapon, fighting style and use of magic is allowed. Players can create their own item strategies to surprise their opponents.
---
Posted from my blog: https://www.nederob.nl/2020/03/18/9-lives-arena-integrates-enjin-wallet-in-new-update/
---