Casascius is widely acknowledged as having jump-started the physical crypto-currency phenomenon.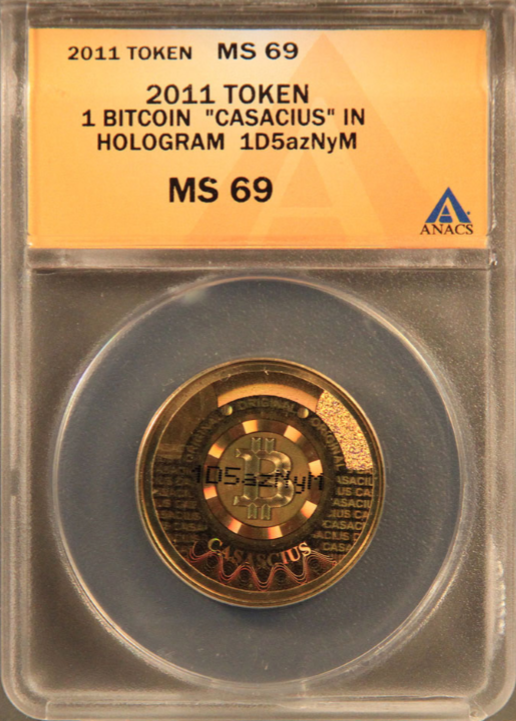 The digital currency enthusiast Mike Caldwell, whose nickname is "Casascius," created and announced the first printed coins on September 6th of 2011, these coins were the first funded physical Bitcoins ever produced with denomination of 1 BTC made of Brass with a diameter of 28.5 mm, thickness of 1.5 mm and, weighed of 6.8 g. Underneath this sticker, lies a piece of paper containing a private key which can be used to acquire the bitcoins contained within the coin's address.
Casascius coins improved holograms with Eight-digit "firstbits" inkjetted onto surface and a greater range of coins and even bars were released with Private key of 22 character string inside the coin, the 256-bit private key is SHA256(string). Early adopters bought large denomination products in multiples, including 1,000 BTC gold coins and later on produced smaller denominations of 0.5 BTC and 0.1 BTC. When redeemed, the item loses its digital worth.
Casascius coins were originally made available in multiple increments of BTC stored on the minted piece. Taking inspiration from Casascius, there have been numerous other small mints producing physical bitcoins as well as alt-coins. Due to FinCEN requests, he stopped most sales in 2013.
You can find these online on sites like eBay, Amazon and, from individual owners on forums such as bitcointalk.org.
Counterfeiting Incident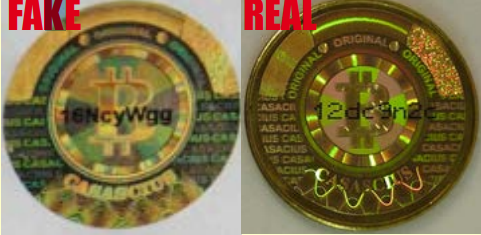 To date, there has only been one known case of a fake coin being listed for sale; a 'convincing' 25 BTC coin was listed on eBay by new user 'tradus 1980' in February 2014. Two months prior, a photo showing a sheet of hologram stickers mimicking Casascius' series 1 1 BTC 2011 coins came to light, with each sticker having a unique code.
Casascius Physical Bitcoin - Series 1 1 BTC 2011 'Error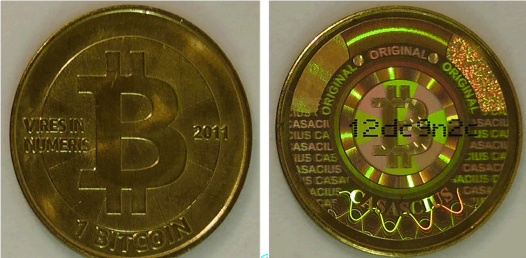 September 6th of 2011 on bitcointalk forums these coins were first posted for sell https://bitcointalk.org/index.php?topic=41892.0, these coins are the first funded physical brass Bitcoins. Their significance as the first coin of their type, but also due to the added perception of rarity due to a spelling error (Casascius is spelled as 'CASACIUS') in the small hologram text makes them highly rare and desired coins.
Year Loaded --- Total
2011 ------------ 4,160
2012 ------------ 1,578
2013 ------------ 371
Casascius Physical Bitcoin- Series 1 1 BTC 2011 'Double Error'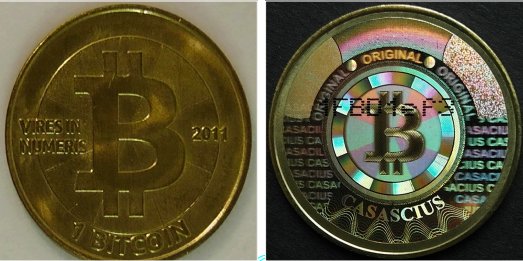 There is an ultra-rare type in which the firstbits are not in the middle, but printed 33 mm higher than normal this is significantly higher on the hologram. Only five of these exist. This is the rarest 2011 Casascius coin.
Casascius Physical Bitcoin Series 1 1 BTC 2011 'Demo Coin'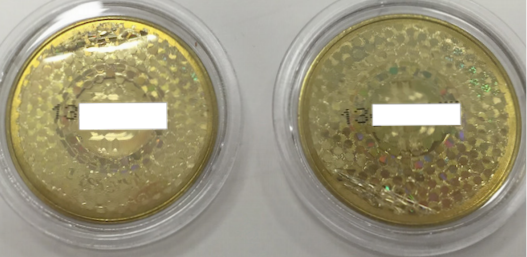 These are the first experiment coins and used to test holograms to reveal the honeycomb pattern left behind, without ever being funded.
Casascius Physical Bitcoin Series 2 1 BTC 2011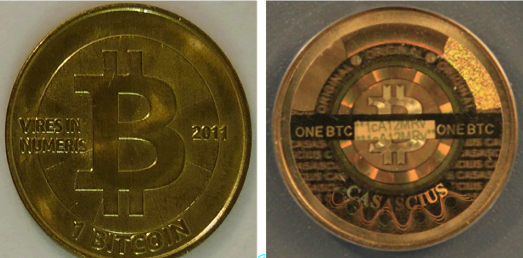 This new version utilizes a hologram with a small window to prove the presence of the first-bits and private key inside, making it impossible to rub the first-bits off and fraudulently print a new public key onto the hologram. It is worth taking note that these coins are in fact much more rare then the Series 1 1 BTC 'Error Coin