According to the Ethbits whitepaper (March 2017), and Ethbits founder XXXXXXX XXXXXXXXX, Ethbits is a new and exceptionally innovative peer-to-peer (P2P) exchange between fiat and cryptocurrency with credit card and bank transfer capability. Moreover, user funds are stored in cold secure storage.
Storage of user funds is covered on page 4 of the whitepaper within the section titled What are ETHBITS Innovations? under the subsection Cold and secure storage of user funds - "We alleviate the worry of hacking attempts with the use of cold and secure storage. Use your Trezor device to access and store your money securely, using two-factor authentication and other security verification methods."
Evidently users will be able to buy and sell Bitcoin and at least 14 other top cryptocurrencies.
The whitepaper also indicates that at some point relatively soon users will be able to spend their cryptocurrency funds with a Mycelium card.
Ethbits is also a platform for trading cryptocurrency options.
According to the whitepaper it appears that some of the other innovations include, though are not limited too, top traders and their respective and specific trades being listed at the Ethbits website. Other users will have the ability to copy the cryptocurrency options which are being traded by the listed top traders.
Moreover, the top traders will earn a small portion of the profits made by the users who copied their trades.
Lead developer for Ethbits is listed as Sergeev Dmitry.
EthBits ICO -
Ethbits is launching their Ethbit Token crowdsale or ICO - Initial Coin Offering - on April 15, 2017
Ethbits is going to sell 1.7 Million Ethbit tokens (of 5 million tokens) during the ICO -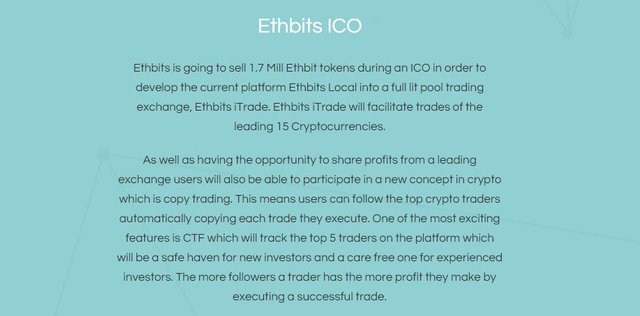 Ethbit Tokens are needed in order to execute peer-to-peer contracts (i.e., P2P buying and selling of cryptocurrency e.g., Bitcoin).
Ethbit Tokens appear to be similar to Ether Tokens which are used in Ethereum.
It's also worth mentioning that users may buy both Ethbit Tokens (for Ethbits) and Ether Tokens (for Ethereum) at the Ethbits website -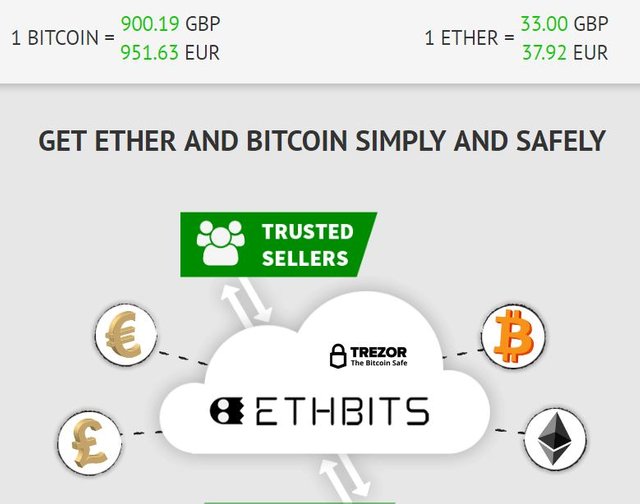 If I understand correctly it also appears that owners of Ethbit Tokens will be paid dividends ($$$$...in what form of currency I do not know at this point), calculated by the amount of Ethbit Tokens owned by each respective user, at least twice a year -

Readers may follow EthBits on Twitter, Reddit and Youtube -
Also worth watching is an interview with Ethbits founder XXXXXXX XXXXXXXXX on the Coin Interview show - March 17, 2017 -
The EthBits ICO Ethbit Token Crowdsale begins on April 15, 2017 and in order to buy tokens you must Register.