Been a lil while since i posted.
My last post mention bitcoin could've been at the bottom and would move sideways.
Well it did move sideways but then broke its uptrend and headed south.
1d chart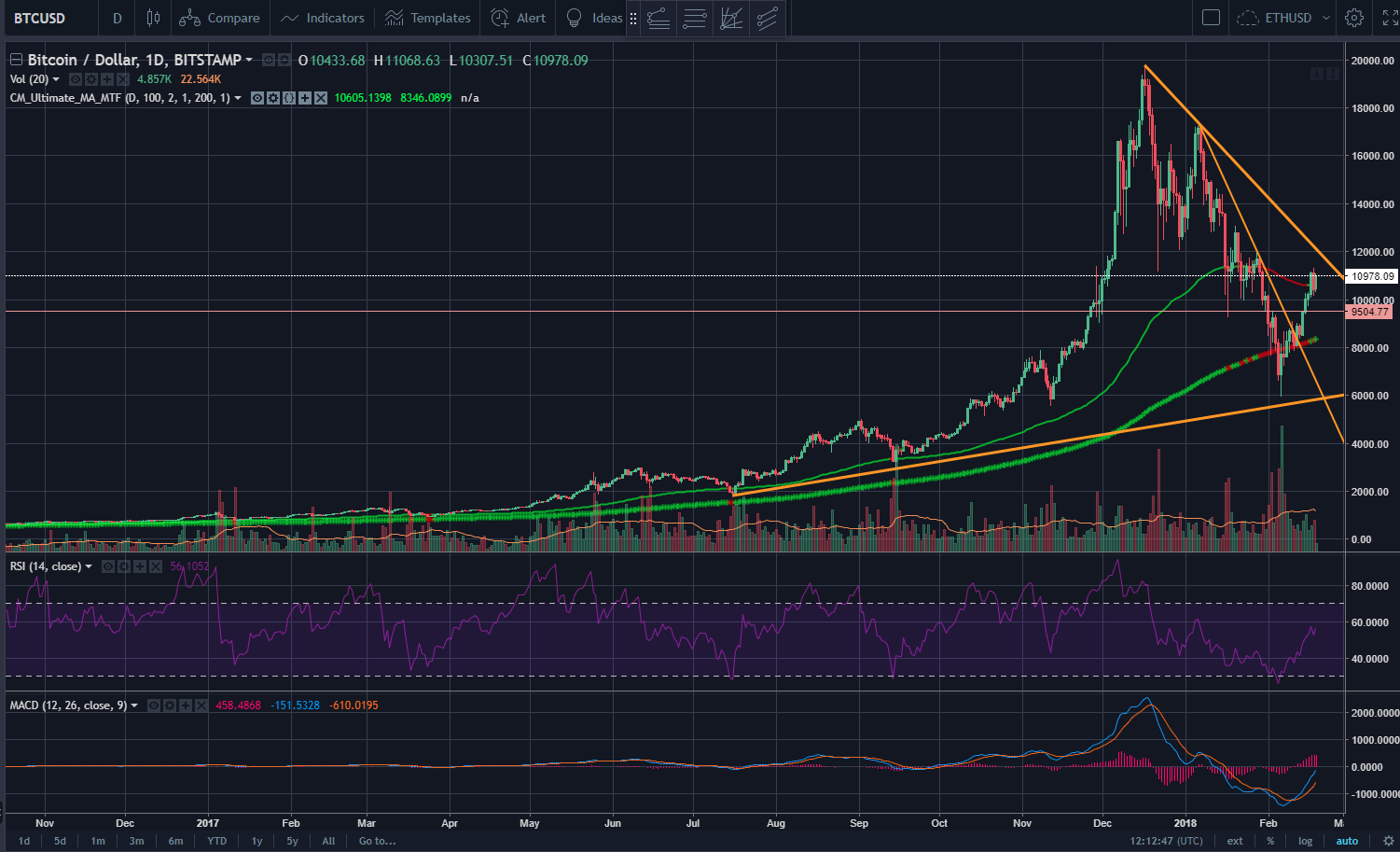 On the 1D charts, BTC has pulled back to its long term trend line.
There was some strong support at the $6k level which was great to see. If we ever do get down there again, i think that support will hold.
The MACD turned upwards at that point and has rebounded. If you bought at that low, you are up around 75%, which is incredible.
4H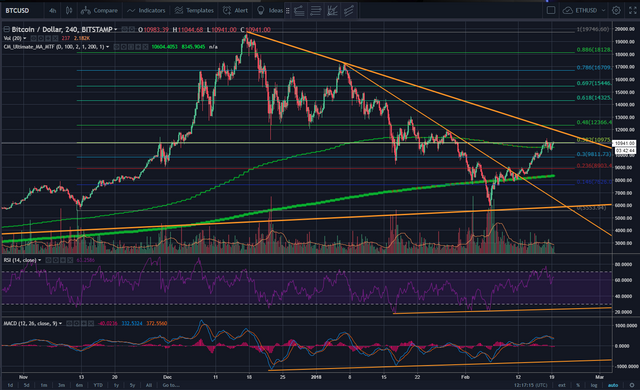 On the 4Hr, after the rebound from $6000, BTC found resistance at $9000, which was a previous support levels in the last dip and back in late nov, which i mentioned in my previous post.
Once it push through $9000, $11000 was its next stop, which you can see also had support in the past, but now becomes resistance.
However, the RSI is in the overbought territory so definitely be cautious atm if you are thinking about buying in.
There is an downwards trendline just above it, which it will test in the near future, but i don't think this run atm will get that far.
I see Bitcoin turning south and testing prices between $9400 -$9800. If that doesnt hold, then down to between $9000 and the 200D moving average.
1Hr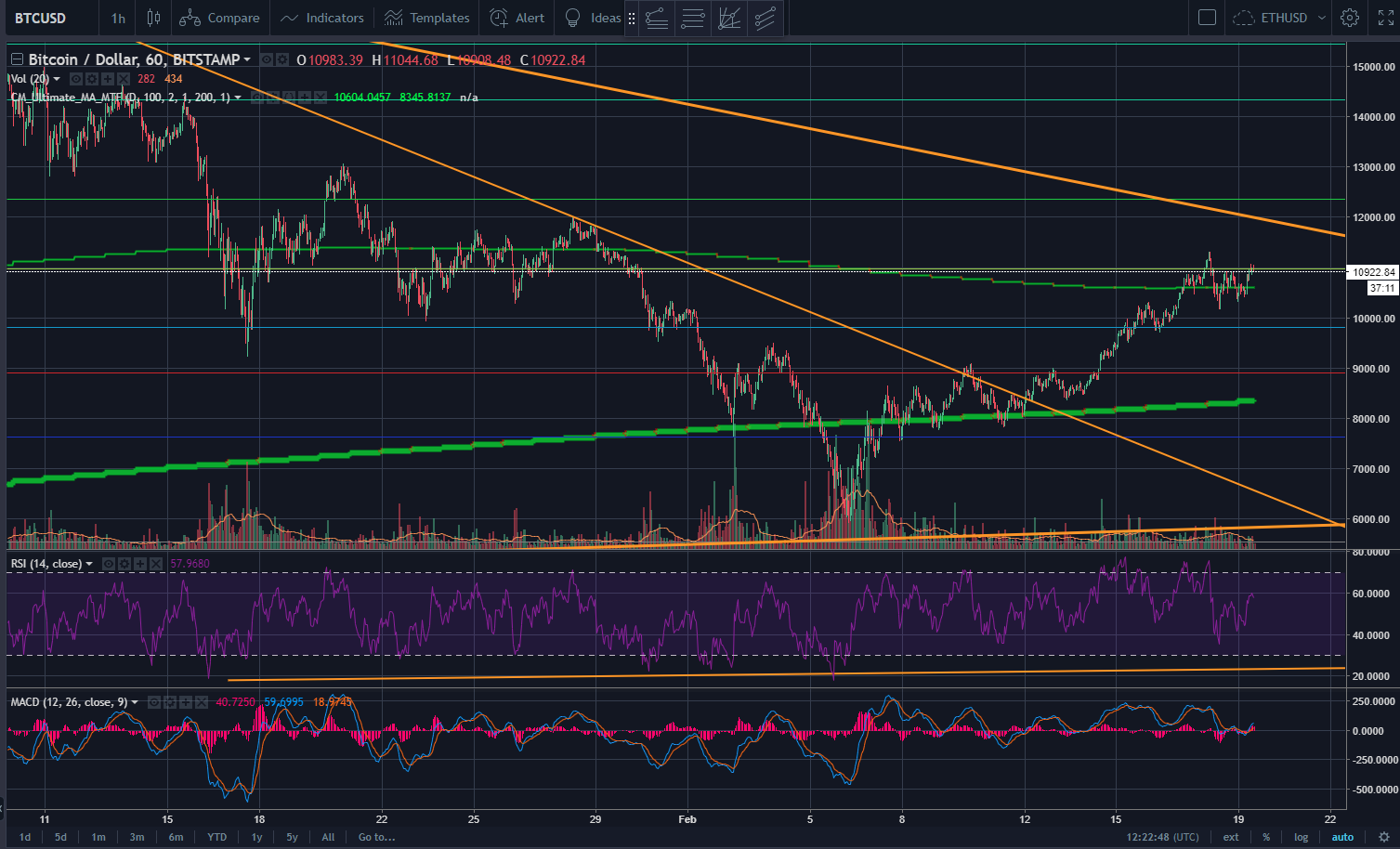 on the 1Hr chart, you can see the RSI slightly diverging away from the price, as the price went to $11300, so I think Bitcoin will turn downwards, as profit takers take their 60-70% returns on that run. We will test a new support in the low $9000's probably and back up to test the upper trend line.
In the big picture, lets look at the Log graph, which helps to show exponential growth.
1D Log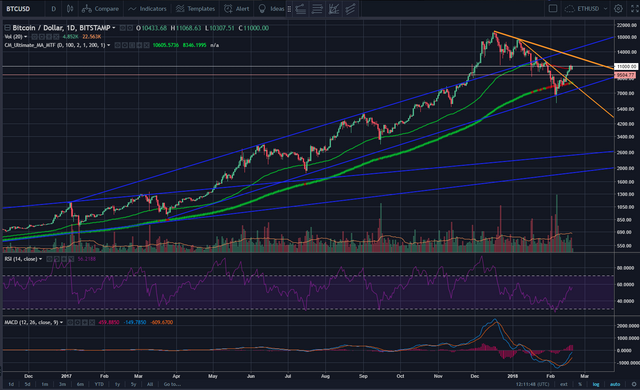 As you can see on the 1D log graph, Bitcoin is still in an upward trend. It tested the bottom of the trend channel, after shooting outside of it.
So don't fear that massive correction, things are still looking bullish.
Its a volatile market, so just be patient.
We are in it for the long run and blockchain and cryptocurrencies will change the world we live in.
Cheers
Hodl strong