Bitcoin To $65000 In 2018 - Bitcoin ETF Explained !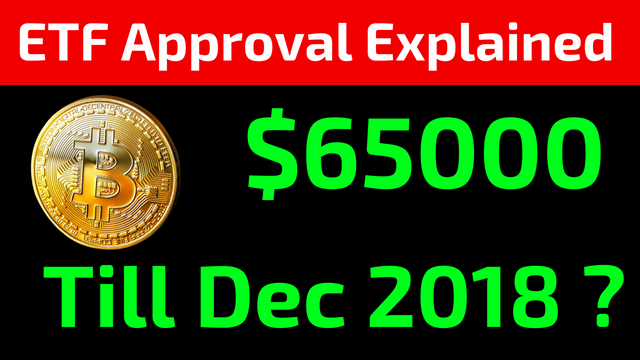 Hello Friends ,
As you all know i made video about Bitcoin ETF on my channel now here is blog in english so all can understand what is ETF and how it can impact crypto market . After reading this blog i would like to know your opinion on what you think can ETF Approval push bitcoin to $65000 in 2018 or not ?
So friends let's begin to understand
"What Is ETF ? "
So ETF means exchange traded fund where investment funds are traded on stock exchanges in different index .
So Why its so significant in crypto ?
Our crypto market has about 240 Billion market cap and price of bitcoin is $6500 at this market cap and we all know our market went to 800 Billion market cap in 2017 end and that time bitcoin went to $19500 So its very simply calculation if we want to see our bitcoin at $65000 then total market cap must be about 3 trillion which can only happen if Bitcoin ETF get approved by SEC as it will result in flood of money into crypto when traders will be able to trade with single click from there brokerage account to buy sell bitcoin .
Why Bitcoin ETF Is Not Approved Yet ?
Till date whenever Bitcoin ETF filler was filled to get SEC approval they had 2 main concerns to approve ETF which were :
1 - Lack of global regulatory rules which surrounds crypto and crypto exchanges and we all know Japan and south korea are two major countries which deal max in crypto and they had no regulations earlier but now both have regulation done for there exchanges and have regulation for crypto accepted . So one of the major hurdle is already cleared by now .
2- SEC has shown concern for investors money in case of hacks , private keys lost so what will happen if any of miss happening happened for investors fund ? So for that CBOE has stated that it has secured insurance for the investors and that means the second hurdle which was for ETF approval has also been removed this time around .
So now this filler from CBOE group has it all in it to get approval from SEC as its gives them assurance on things that they asked for and filler from CBOE in itself is big thing as it is one of the biggest and reputable exchange .
So what are your thoughts about CBOE ETF approval this time around ?
Do you think we will see it getting approved this time around ?
Do you think we will see bitcoin to reach $65000 in 2018 ?
What's Your opinion about it ? Pls comment below what are your thought about it ?
And here is the video for the same blog as well :