Libra vs Bitcoin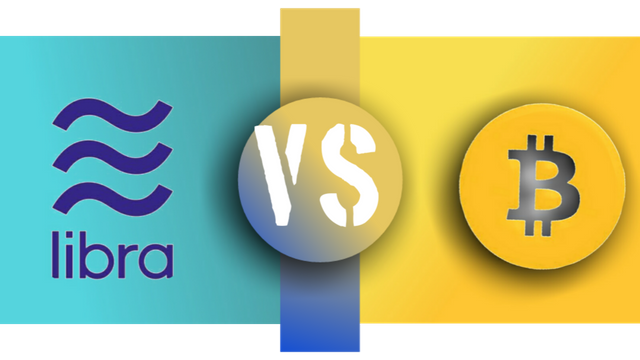 Few days ago Facebook announced the release of it's coin (Libra). Today I am going to make a comparison among Libra and Bitcoin.
What is Libra?
In grand scheme of things, a successful Libra is probably going to do more for Bitcoin in terms of warming users up to the idea of cryptocurrency than nothing has ever done in the past.
The price of bitcoin is not fixed and keep on continuous fluctuations. Today the price of bitcoin is about 11,500.
While Libra will be the stablecoin with fixed price according to Central Banking Monetary Policy or equal to one dollar.
Libra will spread all over the world like a wildfire because everyone is using Facebook app family ( Facebook, messenger, instagram, whatspapp) and having about ~2.5 billion users. Facebook will get their goal in the digital market. They will do this by offering you the ability to for everything like sending money to friends, online shopping, paying your bills, buying tickets and even tipping beggars on the street.
Today many companies, stores, restaurants etc. started accepting payments in bitcoin. As Facebook announced it's stable cryptocurrency platform Libra, with the goal of making one global digital currency that everyone can use to make payments. This platform is designed to solve some problems by making cryptocurrncy accessible to its billion of users across Facebook, intagram,and whatsapp. It is supported by many companies like Visa & MasterCard, Uber, CoinBase, PayPal, Spotify, Ebay and Vodafone, have joined Facebook's initiative to form the "Libra Association" as so-called "Founding Members".
Cryptocurrencies like Bitcoin behave more like investments because they have very little stability. At its peak in December 2017, one Bitcoin was worth around $20,000 USD. Six months ago it was worth $3,500. Today, it's in the area of $11,000, although by the time you read this it could be significantly higher or lower. If you can buy low and sell high (not always an easy trick to pull off), then you can make money buying Bitcoin. For speculative investors, it's an exhilarating asset that exists in a legally murky area with potential for great gains or huge losses.
Facebook's new Libra system is designed to reduce that volatility by tying its cryptocurrency to existing fiat-based currencies. Libra is backed by currencies like the U.S. dollar, so as long as the dollar continues to be worth something in the global marketplace, so will your Libra coins. That could make it easier to at least complete your transaction when paying for something with cryptocurrency, but it doesn't solve all of the problems.
Even if Libra is more stable than, say, Bitcoin, using it still involves extra steps over paying for something with regular money. You get paid in regular currency, convert that currency into Libra coins, then hope that whatever services you need to pay for accept Libra.
Dear reader I need etherum worth $5 I will pay you back. You can send me on : 0x74c656Bf948A8549bE2E92Ae3Bb2f7e7121F7abb
if you send then reply me on this post. Thank you.