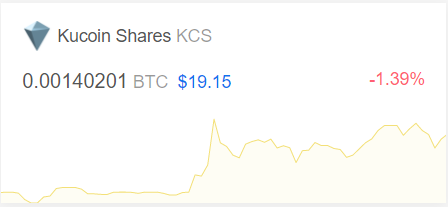 KuCoin is a cryptocurrency exchange based in Hong Kong which also offers their own token KCS (KuCoin Shares).
Find out everything you need to know about this new exchange & the token!
Sign up for the Exchange:
https://www.kucoin.com
What Is KuCoin?
KuCoin is a cryptocurrency exchange launched on September 15, 2017. The platform uses KuCoin Shares (KCS) in a similar way to Binance. You get a discount on trading fees when you use their KuCoin Shares.
Overall, they aim to be a more user-friendly exchange than traditional exchanges available today. The platform shares 90% of trading fees with users, for example. They also offer 24/7 customer service and generous referral rewards.
They has also been known for posting coin pairs before they hit other major cryptocurrency exchanges. The website features a list of coins scheduled to be added to the platform in the near future.
What is KCS – KuCoin Shares?
KuCoin Shares (KCS) are the tokens that belong to the exchange similar to BNB on Binance. It's a decentralized cryptocurrency issued on the basis of Ethereum (ERC 20 token).
You can buy KCS tokens on their Exchange directly. Kucoin Shares grant variety of bonuses including income from fees, lower trading fees and other special services.
To improve user involvement and exchange vitality, they are going to award incentive bonus, which equals to 50% of the total trading fees charged by the platform, to users who hold KCS in their accounts on the Exchange. Daily Payouts!
KuCoin Features
Safe Wallet
The KuCoin wallet includes multilayer encryption, offline storage in a bank safe, funds escrow, and regular auditing by the bank.
Fast Exchange & Withdrawels
They claim that blockchain-based assets will be added to your account within 2 minutes of your transaction, with withdrawals completed in 10 minutes.
24/7 Customer Support
They offer 24/7 customer support through Telegram, WeChat and other platforms.
From my own experience, they are super fast in responding to any questions you have!
Multiple Currencies
KuCoin features alot of crypto currency markets. KuCoin has an extremely powerful backend, which allows them to add any new crypto currencies within a short amount of time.
KCS Tokens – Passive Income
Earn Passive Income (dividends) by holding KCS tokens in your Account.
KuCoin Android & IOS App
They announced to release a mobile app for android and ios soon.
Benefits Of KuCoin
Unique Operation Strategies
KuCoin claims that its incentive policies "can sustain active users' enthusiasm and make the business even more vigorous". Their goal is to become one of the top 10 exchanges worldwide, and they believe their incentive and referral bonuses, among other features, will help drive that growth.
Financing Stability
KuCoin uses "an advanced multi-layer and multi-cluster architecture". They offer bank-level disaster-proof deployment with two locations and three centers capable of handling multiple tasks simultaneously.
System Security
KuCoin's system uses industry standard transfer encryption protocols. Overall, they aim to provide bank-grade encryption and security.
High-Performance Engine
KuCoin's trading engine can handle two million order-making requests per second, and one million order requests per second in general.
Highly responsive Team
They have a super responsive Team that truly listens to the Community and implements features / coins which the community wishes. KuCoin also runs cool promotions & other community activities.
KuCoin Referral Program
They are one of the only Exchanges that offers a nice Referral Program which is NOT a Pyramid Scheme. More about it below.
KuCoin Legit? KuCoin Pyramid Scheme? KuCoin Referral / Affiliate Program
In the recent time I've heard several accusations of people calling KuCoin a Pyramid / Ponzi scheme. The initial impact of the image makes one think that it is a pyramid scheme, but if you actually look closely you'll understand that in actual fact Kucoin themselves don't really benefit at all, they're giving 90% of all of their fees to the referee as compensation while they only take 10%. This isn't a pyramid scheme or some shady MLM, it's a marketing tool to attract more traders and liquidity to the market. The only people who really benefit are the traders.

Conclusion
I think KuCoin is an exchange with alot of potential to be really successfull. Their Team is extremely responsive & listens to the Community, like no other exchanges has ever done. They aim to be one of the top 10 exchanges in the world in the future.
I really like the frontend design, the affiliate system & i like that they've implemented tradingview as their Chart. I do also think that the KCS Token is great, because you can earn some passive income with it.
Feel free to Signup and check out KuCoin!
https://www.kucoin.com