Welcome to the SiriusX Project!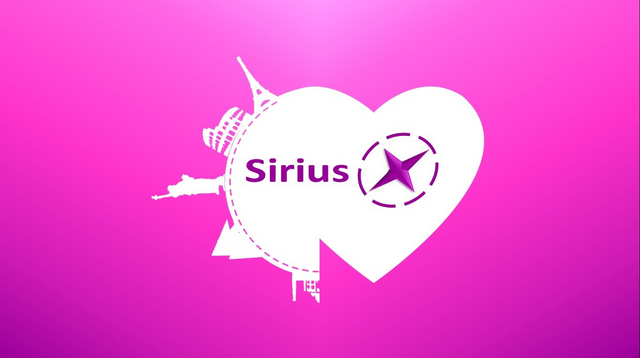 https://www.siriusxico.com/
Peace always for all of you who read my article today. In this meeting, I will discuss a future project that will work as a platform based on the first Blockchain Technology that combines the two tourism sectors, and the rapidly developing social media. This project is named SiriusX! Well for more details about all the work procedures of this project, let's follow all my notes below. I will begin my notes with problems and current travel solutions that are considered relatively safe and accessible to everyone, but despite all the progress, there are still many problems for travelers. The topic of cost may play the most decisive role for the majority. Offers for flights and hotels are compared many times to ensure you get the cheapest. When exchanging currencies, terrible fees are paid to the bank and exchanged. The problem you saw earlier will certainly be very different from joining the SiriusX Project, where you will get a new framework by offering a complete range such as :
Travel ticket.
Hotel booking.
Car cost.
Recreational activities.
Tourist attraction.
Travel insurance and comfort and clarity for its users.
Overall, what users are looking for will be available in the SiriusX Project. It also allows travelers to make payments easier and cheaper than before with payment cards throughout the world. Apart from all the time and space restrictions, transactions can be done on Ethereum, the most popular decentralized Blockchain platform. With Ethereum smart contracts, transactions and processes are fully guaranteed and without third parties. Smart Contracts are special protocols that are activated to participate in, agree with or enforce certain contract terms.
About the SiriusX Project.
The SiriusX project will be the largest and the only platform in the world that integrates and combines the most profitable and most popular entertainment sectors with its extensive but user-friendly social network on the Blockchain using Smart Contracts. With a variety of offers from hotels to flights or cruises to events and events, there's nothing left for travel fans to want. The integrated SiriusX Social Network gives users the opportunity to meet like-minded people, share travel experiences and also receive prizes in the form of SiriusX tokens. All of this is available, anytime, anywhere, paid for with the SiriusX Payment Card, (cost effective, and in no time because the SiriusX Project has collaborated with Blockchain Technology!) The SiriusX social networking framework allows users to exchange ideas on this social network. Users on private blogs can share their vacation experiences with others and comment publicly or privately. Using smart contracts on the Blockchain platform, SiriusX will become the largest and somehow the only global platform to combine the most popular tourism and vacation sector in the world with its extensive and user-friendly social network. Decentralization and integration of Blockchain can solve this recurring problem with transparency, peer to peer (P2P) communication facilities, and elimination of intermediaries, and others. The SiriusX project offers unlimited benefits for tourists to get all travel-related services with complete cost efficiency, transparency, flexibility, and peer to peer (P2P) communication facilities, as well as the elimination of intermediaries. Five factors can drive the growth of the SiriusX Project ecosystem, both on the corporate side and on the side of potential supporters and travelers :
Partnership.
Large audience.
Selling power.
Property.
Token Sales.
SiriusX FinTech.
Run your own ERC20 Token on Ethereum largest and most popular Blockchain platform. With SiriusX digital currency (SRX), we promise transactions between buyers and sellers through cryptographic exchanges and between SiriusX users and our cooperation partners. SRX liquidity will increase as demand and benefits become more consistent. When paying with SRX, security is guaranteed according to Blockchain standards and protection of personal user data.
Token.
Name = SiriusX
Symbol = SRX
Shipping Total = 100,000,000 SRX
Account = 8
Contract Address = 0x32f3b8a00b6912d0314be212fe9538b7b9430c12
Distribution of marks :
ICO = (82%)
Team = (10%)
Pre salt = (5%)
Prizes = (1%)
Erdrop = (1%)
Pension = (1%)
Revenue Distribution :
Development = (45%)
Marketing = (35%)
Prizes = (10%)
Reserve = (5%)
Law = (5%)
During Pre-Sales (1 Dec - 31 December), 5 million SiriusX tokens will be released to the public.
1 SRX = 0.05
US Dollar Duration = 30 Days
Minimum purchase = 0.5 ETH
Maximum purchase = 150 ETH
Market capitalization = 250,000 US-Dollars
ICO - Initial Coin Offer
The minimum payment for purchasing SiriusX tokens, (SRX) is $ 150.
The SiriusX token will be listed on the crypto exchange.
After ICO SRX will be publicly available for exchange and trading. After the SiriusX platform is fully operational, the use of SRX will become active and sustainable between the company and its users. When the level of popularity increases, the demand and general value of the currency will also increase. Token ERC-20 is a program that works on Ethereum Virtual Machines from Ethereum - Blockchain. The Smart Contract guarantees that the SiriusX token allocation plan remains unchanged. It is impossible to make more than 100,000,000 tokens. This means that after listing in a price exchange depends exclusively on market demand and not on technical manipulation.
Roadmap.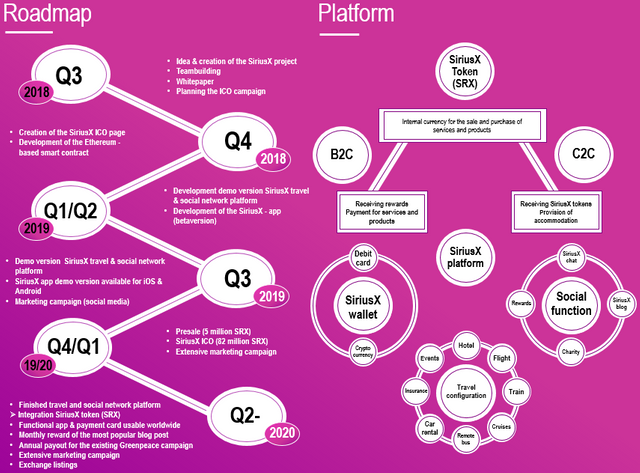 Team success at SiriusX Project.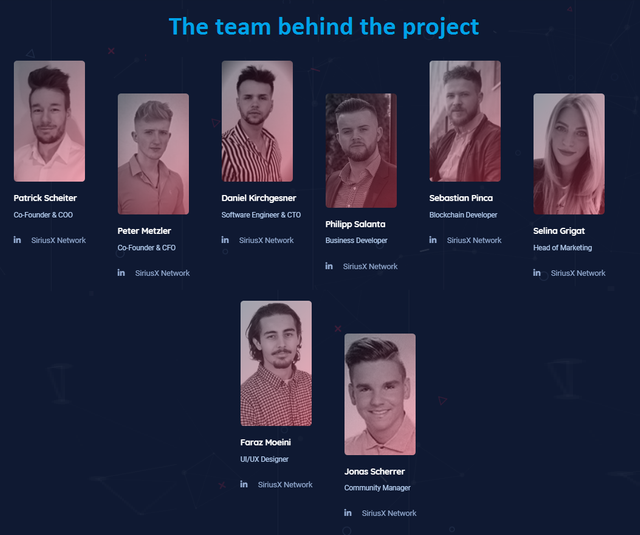 The SiriusX project has prepared a very simple, easy-to-use work process that allows all users to make payments easily and securely with cryptocurrency and is similar to traditional online payment methods, and if questions still arise, of course, SiriusX support is always available to you. For more detailed information about all the latest developments from the SiriusX project, you can see some of the links that I have provided for you to see below :
About me as a writer :