Your crypto portfolio is red as hell... What you did wrong?
So the price of Bitcoin price has declined below the $4,000 and overnight it dropped even lower... to three-week low of $3,270. What you should do now? Should you HODL?
Let me summarize what is happening right now.
Gov of China allegedly decided that they will be closing cryptocurrency exchanges - it hasn't been officially confirmed. However..
BTCChina - tweeted that they will be closing operation by sep 30th

Also, Charlie Lee posted


Jamie Dimon from JP Morgan said

"Bitcoin is a fraud." Another ignorant from JP Morgan "is bitcoin a pyramid scheme"?

In the meantime America woke up and started to sell because they saw BTCChine tweet
Shit is going from everywhere. Fortunately there are some idiot-proof people. Have a look what McAfee said about calling BTC a Fraud. Twitter link!
"I'm a bitcoin miner, it cost over 1000$ to create 1 BTC. What does it cost to create a US dollar? Which one is the fraud? "
Chinese market is crazy. People loose their minds to trade, they invest more then can afford and there is a lot of scam ICO, so China gov decided to make an intervention. What they can do in order to get some time before next step? Cash out. They are just cashing out. But that's just temporary., remember that there is also something like over-the-counter (OTC) market.
Some people believe that this is simply a technical pullback. The price giggled an important psychological level ($5,000) where most probably many traders to take a profit and wait for better position to jump in again.
I personally believe that price shouldn't go lower than $2,800, however that's just my assumption. Corrections are healthy, and when BTC will take another breath it can go to $4,000 and then to $4,500.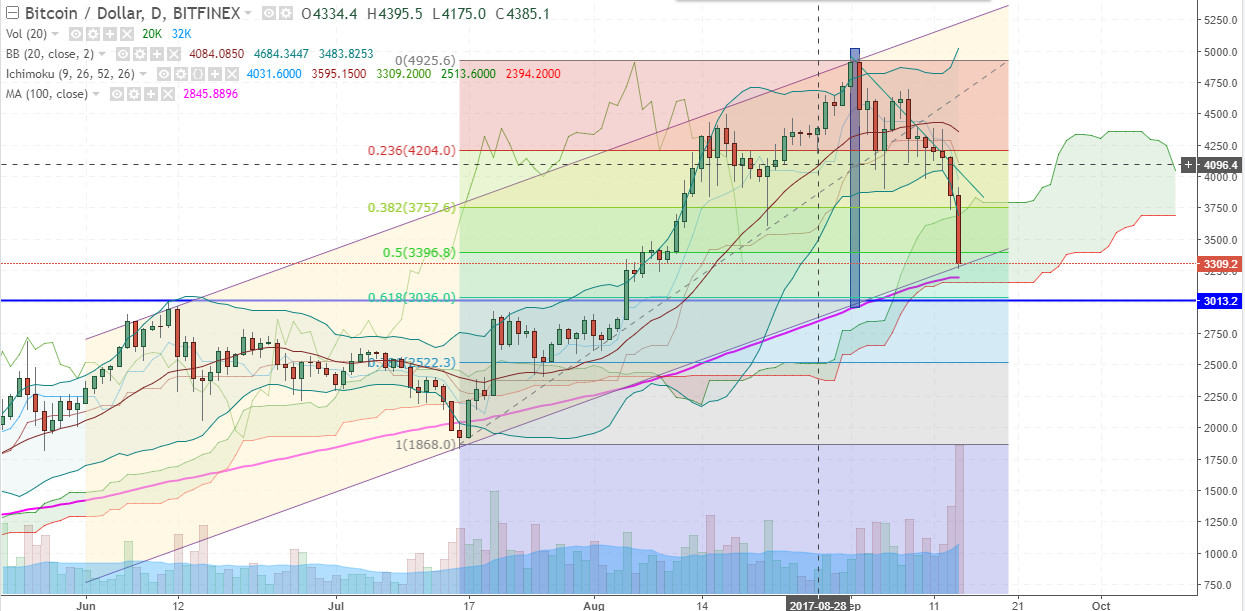 Remember - do you own due diligence before taking any position. Your money - your responsibility.