My BTC Limit Sniper Flipping Strategy (trade #4)
I managed to snipe a nice trade during this weekend as well (pretty quick trade: just 2.5 hours). Let's see if I achieve my goal of 500% ROI with around 3 buy limit trades with 2% TP (plus 10x to 20x leverage) in the next 2 weeks or so...Last time I was so close but the market decided that it was time for a correction..I believe that now we are at the start of the uptrend at least till around $72,000 BTC so we'll see how that goes.
DISCLAIMER: I'm not a financial adviser and this is not a financial advise. Remember, most traders lose money.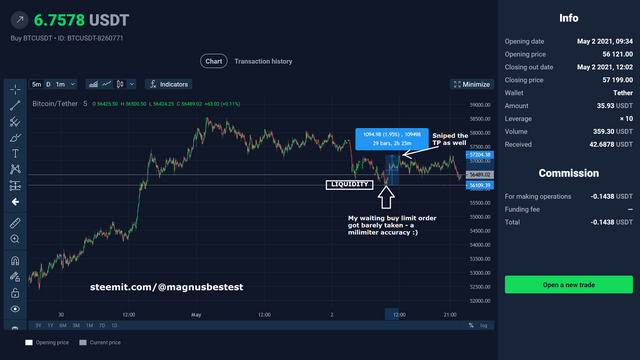 💎 MY MISSION is get to a level where I would end everyday in profit. 💎