How to get BITCOIN for FREE (2018) 💰 CoinPot Moon Faucets | ✔️EASY ✔️FAST ✔️FREE Step-by-Step TUTORIAL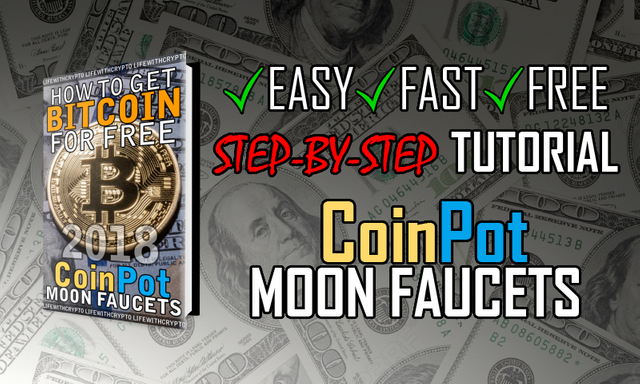 Welcome to PART 1 of my "How to get BITCOIN for FREE (2018)" Step-by-Step TUTORIAL, where you will learn the first of three strategies that I'm using to passively gain more Bitcoin (BTC) and other cryptocurrencies such as Litecoin (LTC), Dogecoin (DOGE), Dash (DASH) and Bitcoin Cash (BCH) completely for FREE! So let's get started...






First of all you will need to get acquainted with the CoinPot Micro-Wallet which will be your main dashboard for all your cryptocurrency gains from the Moon Faucet claims, that we will go over in just a moment...

First step is to go to their website, which is: https://coinpot.co/ and hit that button, fill in a valid email address and select a secure password. Head on over to your email inbox to activate your account.
---
Second step now that you have your account is to hit that button and your are set! Now all you have to do is to get familiar with the layout of the dashboard.

With your brand new CoinPot Micro-Wallet ready to start holding some cryptocurrencies, I think it's time to move to the next part of our strategy, which is the Moon Faucets, so let's get right into it...

Now the most important part of this strategy are of course the Moon Faucets that I keep mentioning. These faucets are simple websites designed for users to claim small rewards in different cryptocurrencies every few minutes (ex. 15 minutes). The great part about these faucets is that they are fully integrated with the CoinPot Micro-Wallet meaning that every faucet claim you make will go directly to your wallet, as opposed to having individual wallets for each faucet, which makes everything very easy and fast to manage.
---
Below you will find a table with all the benefits that each individual faucet has to offer, as well as the link which you will need to use in order to register for each faucet.
A very important part of this strategy are the multipliers (or Bonuses) that these faucets have, especially the Moon Faucets where as you can see above, you can multiply your faucet claims by up to 500% (for the Moon Bitcoin Faucet) and up to 300% (for all the other Moon Faucets) which really adds up over time!
---
Below you will find a table with a breakdown of all of the Moon Faucet Bonuses, how they work and how you can start gaining these Multipliers every time you claim one of the faucet rewards.
💎

BONUS

HOW IT WORKS

FAUCETS

0-100% Daily Loyalty Bonus
+1% will be added if you claim the faucet reward at least once every 24 Hours

All Moon
Faucets

0-100% Referral Bonus
+1% will be added for every referral that has claimed the faucet reward in the last 72 Hours

All Moon
Faucets

0-100% Mystery Bonus
+1 to +100% will be added randomly every time you claim the faucet reward

All Moon
Faucets

0-100% Offer Bonus
+5% will be added for every offer/survey completed within the last 30 days

Moon
Bitcoin Only

0-100% Mining Bonus
+20% to 100% will be added if you let the website use up to 80% of your CPU power to passively mine more Bitcoin

Moon
Bitcoin Only

5% Daily Payout
5% of the Total Amount of Claimed Bitcoin in the last 72 Hours is rewarded daily

Bonus
Bitcoin Only
WORK IN PROGRESS... TO BE UPDATED SOON