When Henry Ford built the first car it was the most popular 4-wheel combustion vehicle. The invention was something that touched magic. It was also the underlying blueprint for all other cars that came shortly after. Today, not many people own an original first model Ford. If they do, they keep it for sentimental value — or worse — as a very expensive antique. Not as a utility.
Bitcoin is very similar to the early Ford T model. It was the first coin that introduced the world to the blockchain universe much like Ford introduced us to cars. Nonetheless, much like Ford could not upgrade the first cars into the next generation vehicles the same fate awaits Bitcoin. It arrived 8 years ago and due to the fast pacing development of blockchain technologies it is becoming obsolete because there is only that much we can built on it in order to get it upgradable (and functional). Which reminds me. My dad spend the other day $1500 to paint a car that is worth $600. Why? Sentimental value.
The recent forks and small additions to the technology are just desperate attempts to upgrade something that is no longer upgradable. The early developers of Bitcoin support and preach about it because they have a massive stake as earl adopters. They hold Bitcoin. They also happen to control many other alt coin ventures as angel investors. Bitcoin is still the funding tube for everything else in the ecosystem that found them to be kings.
In addition to this, people get their feet wet with blockchain technologies by first buying into bitcoin and then spreading their capital into alt coins. I decided to write this post at an alt-time high to demonstrate the point of my argument. If you asked me to do the same a few years back, I would have a completely different analysis since there were no revolutionary breakthrough coins that had blazing fast transactions, variant block sizes or smart contracts embedded in their code.
Most people that entered over the last few years and caused this massive spike in market cap have no clue about the alternative technologies that are being developed in the blockchain world. Mainstream news that serve as the gateway to the general public almost always cover the spike in Bitcoin rather than the spike in blockchain technologies. People buy the news, not the technology. This is what is driving and keeping the price so high.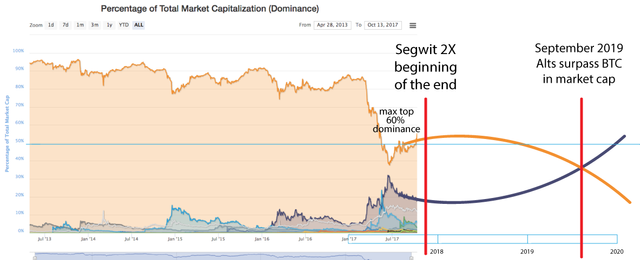 As the market cap increases we will witness a steady drop of BTC dominance and a rather crazy investment into altcoins that will overshadow May of 2016. It will be slow bleeding that will last over a year. I don't believe Bitcoin will serve any purpose in the future other than an antique for Bitcoin evangelists. Holding Bitcoin will be similar to keeping your wealth in a precious rare rock that weighs a ton. It will be cool to look at but hard to secure or transact with. The decentralized world demands utility and speed not relics that make life harder. Yes it was the first, yet it was revolutionary but the world will move ahead as new and more efficient coins dominate the market. More importantly more and more coins ensure true decentralisation which is the whole point of blockchain technologies.