Chaos is Coming; a Praise of Breadwallet: keep control over your coins, follow the chain of your choosing.
---
Breadwallet keeps your coins protected in the event of a fork. Breadwallet is completely open source and allows you to easily store your private keys. Learn how to configure your own trusted nodes to follow any potential fork.
---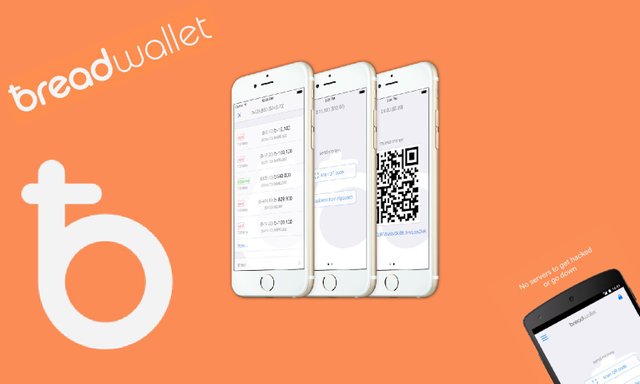 ---
With all the recent rhetoric and what I would call propaganda surrounding different scaling proposals for Bitcoin, many users are scared they might get "stuck" or "lose coins" on a particular chain. Rightly so, as many major exchanges such as Coinbase (~10% of all BTC in circulation) have stated that they will not be honoring users position on potential Bitcoin forks that are coming August 1st. You might also be worried about the potential dangers of SegWit and want to have control over your coins. With this said, I want to take this time to plug Breadwallet - with the chaos coming, this is the noob friendly way to keep your coins safe.
Breadwallet has always been my favorite mobile Bitcoin wallet. It is open source, works on both iOS and Android, and offers an extremely simple interface. Most importantly, despite its simplicity, Breadwallet stores your private keys in a simple 12 word phrase. Your wallet does not rely on any of Breadwallet's servers and connects directly to the Bitcoin network. There is no centralized authority telling your wallet what chain to follow. You have the keys to your kingdom so to speak.
Come August 1st, whatever sort of crazy forking happens, you can rest assured that your value will be safe in Breadwallet. Any chain split will result in you with coins on both sides.
Using Breadwallet's node tethering feature, you can force your wallet to connect to your own trusted node. This allows you the freedom to use your bitcoins on whatever chain fork you choose.
---
How to node tether:
Here is a guide to setting your own trusted node in Breadwallet. This can be used to follow a chain of your choosing. It will be assumed that you are running a node at home that implements the consensus rules you have chosen. If you want to follow the SegWit chain, running the btc1 software would be advised. If you do not want to have interaction with any SegWit transactions and have access to Bitcoin Cash, running the Bitcoin ABC software would be appropriate. Note the software may iterate quickly come closer to the August 1st date.
Once you have a functional node running and fully synced, make note of your IP address and try it on bitnodes.21.co to see if all is functional. This will be the IP address you need to provide to your Breadwallet app.
In the settings pane on your Breadwallet app, choose the about tab at the very top. Here you will see some info about the app; at the very bottom, grey text shows the status of your wallet and the exchange rate as provided by bitpay. Tap the line that says "dl peer:". This will bring up the pop up that allows you to enter the IP address of your chosen trusted node.
Your wallet will now connect directly to this node and use it to discover other peers. If you want to go back to randomly selecting nodes and trusting the network at large, simply tap "dl peer" again and remove the setting.
For more information see Breadwallet here.
It is recommended that you run this trusted node yourself, although other nodes can not steal your funds, they many not implement the consensus rules you prefer.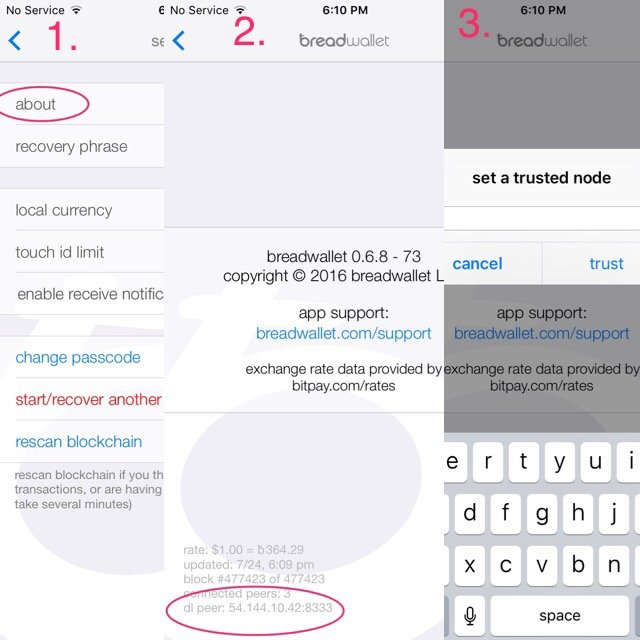 This is your freedom of choice, enjoy it!
---
Remember make sure you have your 12 word recovery phrase. That is your Bitcoin.
As always,
Stay decentralized!
---
Be sure to check out some of my important posts discussing the dangers of SegWit, the self-voting frenzy, and what is going to happen on this chaotic August 1st: