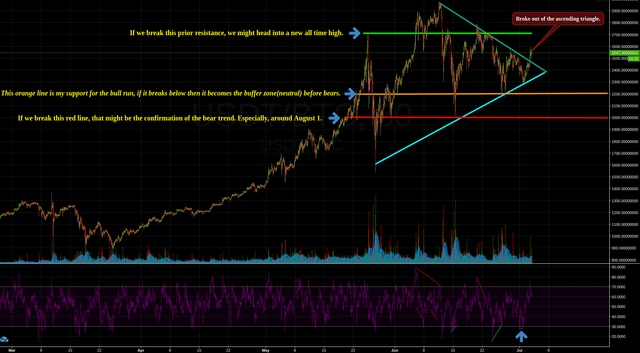 Here are my current views and predictions of the Bitcoin market. Please don't take this as an investment advice, as these are just mere predictions and anything can happen.
*So today, we broke out of the ascending triangle meaning we are still in the bull run! Could be the news of South Korea legalizing Bitcoin, that means more new money (investors) and more pumping.
*Now, if we break the green line at $2750, then we might see another all-time high around $4000.
The Other Direction.
*The orange line is my support for the bull run, if it breaks below the line, then it will be an indication of heading towards the bears.
*Breaking the red line would be my confirmation of starting of the bear trend.
Crossroads around August 1.
When I was new to this cryptocurrency world, I didn't know about all the drama around Bitcoin, nor I cared. But it's important to know about all this if you are in the market to trade or invest.
For your information, Bitcoin can actually split into TWO coins around August 1. due to different opinions between core developers and the Bitcoin miners specifically in China.
Now, talking about the issue in detail is out of the scope of this post and I will eventually talk about it in one of my future posts. But if you would like to look into it, then you can Google keywords like Segwit 2x, Bitcoin hard fork.
Let's see what happens!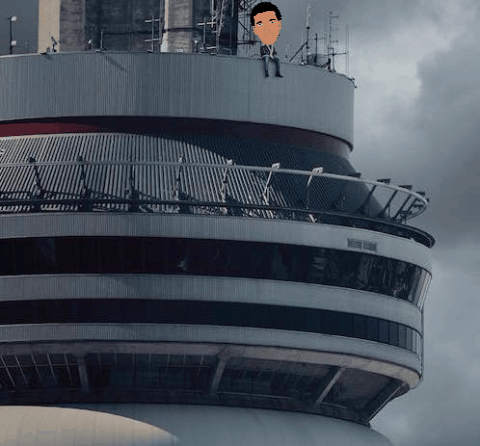 ps- My views are only my views. Not an investment advice.