Bitcoin rebounds to a low of around $ 6,000.
Signal discrepancies between Bitcoin, Ether and XRP.
Towards a further decline in the BTC / USD.
BTC / USD daily chart produced on the TradingView platform: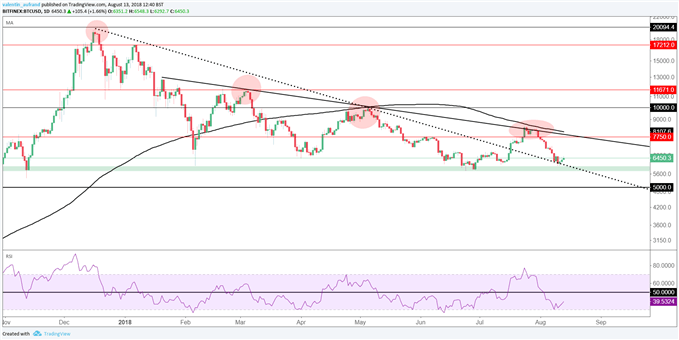 BITCOIN BOUNDS ON LOW $ 6,000
The course of Bitcoin has not (yet) registered new lows. The BTC / USD rebounds close to its lows of the year to $ 6,000 earlier this week, but this increase could be limited in time and in its amplitude given the significant downward trend in the market since the beginning of the year and divergence of the signals with his Ether and XRP pairs.
Indeed, according to the technical analysis, trend tracking strategies have the best chance of success. The cryptocurrency market is in a downtrend since the beginning of the year (with 73% of capital that have come out since the peak of January 7).
HAVE THE POINT LOW ON BITCOIN?
I do not think so. First of all, because there is technically more chance to bet on a continuation of the trend (decline) rather than a change of trend.
Second, because neither the Ether nor the XRP (the other two most important crypto-currencies in terms of market capitalization) have validated this rebound. Both cryptos have in fact registered new annual lows ... The rebound of the BTC / USD is thus isolated among the other majors.
So we have a downtrend and signals that diverge between the major in the short term. The upside potential seems to me to be too risky to exploit despite the bullish divergences between the prices of the main cryptos and their RSI on the unit of time 4 hours.
As indicated in July, a return to the bearish slant that has been looking for all the highs since mid-January on the logarithmic chart, is an interesting resistance to open short positions and aim at the recent low at $ 6,000, then the next support that seems to be the psychological threshold of $ 5,000.
Only if the MM200 days and the bearish slant are exceeded, we could consider a change in the trend and therefore favor long-term buying strategies.