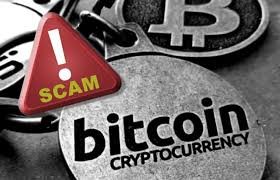 Although some may argue that bitcoin itself is a scam, some of the top criminal bitcoin scams include malware, fake bitcoin exchanges and bitcoin ICO scams.
What Is a Bitcoin Scam?
For most cases, it may be pretty obvious what a scam is - but with bitcoin, and cryptocurrency in general, things become murkier.
Bitcoin scams have been famously criminal and public in nature. With no bank as a middleman in exchange, things become more complicated; so hackers and con men have had a heyday.
Bitcoin Scams
There have been (and undoubtedly will be) nearly countless bitcoin scams, but these frauds make the list of the top 3 worst bitcoin scams to date. Take note.
Malware Scams
The malware, CryptoCurrency Clipboard Hijackers (which reportedly manages 2.3 million bitcoin addresses) switches addresses used to transfer cryptocoin with ones the malware controls - thus transferring the coins to the scammers instead.
Malware has long been the hallmark of many online scams. But with cryptocurrency, it poses an increased threat given the nature of the currency in and of itself.

Fake Bitcoin Exchanges - BitKRX
Surely one of the easiest ways to scam investors is to pose as an affiliate branch of a respectable and legitimate organization.BitKRX claimed to be a branch of the KRX, a creation of KOSDAQ, South Korean Futures Exchange, and South Korean Stock Exchange
3.ICO Scam - Bitcoin Savings and Trust and Centra Tech
Still other scammers have used ICO's - initial coin offerings - to dupe users out of their money.
Notably, $32 million Centra Tech garnered celebrity support (most famously from DJ Khaled), but was exposed for ICO fraud back in April of 2018, according to Fortune.