Sandblock ICO - Convert loyalty points, Coupons and Vouchers into Crypto Assets
I believe at some point almost every local business or global company will have their tokens or will give some sort of assets to their clients. Its fast, cheap and can get you new clients or keep current ones satisfied.
Sandblock


Imagine people getting incentives for buying stuff at your shop but not usual "buy 10 coffees get 11th free" but they get tokens that can be exchanged all over the world. You buy a sandwich, get a token and at some point, the token is worth another sandwich. Using the Satisfaction protocol developed by Sandblock, businesses can autonomously reward customers for their engagement and loyalty using cryptocurrencies.
The video below explains this nicely.

More Technical Info
Blockchain & Smart contracts - this way system is trustless and transparent with no negotiations needed.
Data analytics & Privacy - Anonymous data about customers are available to participating businesses. All of it is encrypted and only analytics part gets extracted
Rewards /Surveys /Games - Sandblock mobile app will allow businesses to easily integrate cool engagement things for their users to get their attention and love
The SAT is a tradable ERC20 token made on the Ethereum blockchain. It is a bridge between a firm and the rest of the world's economy. Each Business creates its own Branded Token pegged to the SAT. To do so, a business needs to first buy SAT tokens from the ICO or later on free market (exchanges).
Branded Tokens give various rights and capabilities to customers such as paying, voting, rating or accessing premium features.
Get SAT Tokens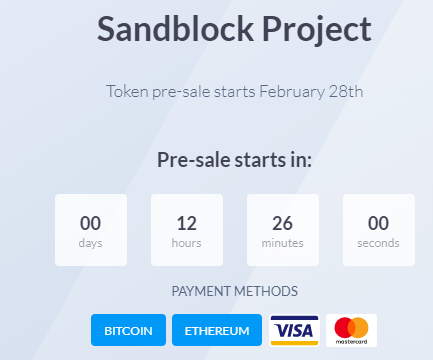 As you can see they also allow buying with credit cards which is very unusual for ICOs yet usual for day-to-day business customers which means they are already doing something right way.
Token price:1 ETH = 3750 SAT
Tokens for sale: 8 000 000 SAT
Currently there is 25% bonus for the pre-sale.
Website: https://sandblock.io/
Whitepaper: https://sandblock.io/whitepaper/en (there is also version in Chinese and other languages)
This post is just an information. As always remember to do your own research before investing in anything.