In 4 months from launch this spot got to top4 of most popular crypto exchanges!
This is pretty crazy how good this guys did despite they were initially China based and China banned ICOs and made loads of problems.
I have been suggesting getting there already in posts since they run loads of games and share drops with free coins and dont need verification (as long as you are not from China!).
So if you haven't register yet its a good moment..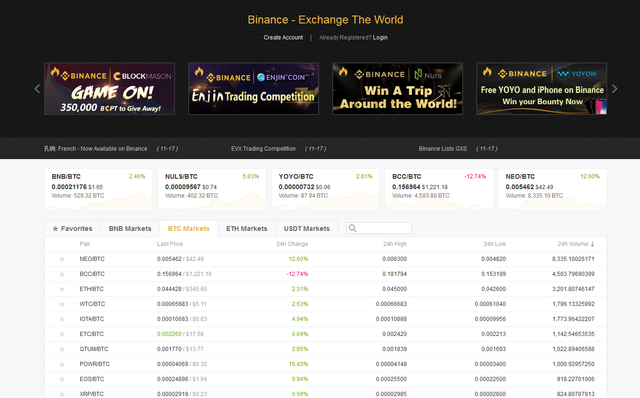 Currently by volume top exchanges are:
Bithumb - Korean exchange with top volumes on everything they trade
BitFinex - exchange that often runs all BTC pumps (esp due to Tether) and has easy to use leverage/margin trading
Bittrex - amazing altcoin exchange with loads of great altcoin pairs
and the 4th top spot is..

Binance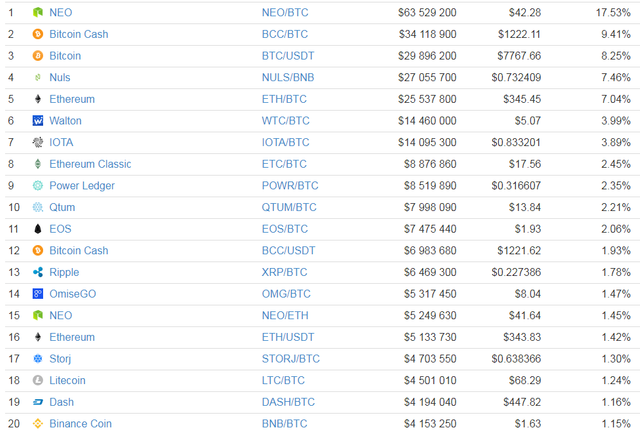 It has a great design, easy to use engine, pays GAS from NEO that you hold and has lots of competitions to get free coins if you don enough trades. Launched 12:00 July 14th, 2017 (Beijing Time) and just 4 months later become top4 volume exchange. I personally trade mostly this one with Bittrex often with arbitrages so i really suggest registering, even if not using now - then in future.