BitcoinGold Hit With 51% Attack
BitcoinGold was AGAIN hit with 51% attack and double spend.
Between Thursday and Friday there were detected two deep reorgs on BTG, both of which contained double-spends. Their details are listed below. All times are GMT.
Thu, 23 Jan 2020 18:01:32 - 14 blocks removed, 13 blocks added
1,900 BTG double-spent (~$19,000).
1,900 BTG originally sent to GgmzUSgXrXpDxiY34bG6SxaDVi2rQ1zU8Q in TXID 3a17157994502a749a1827883a670d822f8ee95dae94064631770faeec1e8443 was redirected to GNH5cUEg5LZZP5HfLgaLvTE9ApKAf76aBf in TXID 6e05e8253b2ce7f1acf6f0684898e13141c0e9b893e1a5e44d215d8ebe4d28b4.
The majority of the coins were sent from an output owned by the address GK6HuN964f3XFScY5CPGg1oZ1gFRq52nf5.
Fri, 24 Jan 2020 00:24:08 - 15 blocks removed, 16 blocks added
~5,267 BTG double-spent (~$53,000).
~1,947 BTG originally sent to Gg4YDMrMuqit6eJAYKaBxmK17zPFnpLt5w, 1,850 BTG to GfRdNzHJan8sfW9wxozAYhRPL9fFLD9A9m in TXID 481d608591f4d6a7013ac1b879c2caf1e2c0a2bb30b5346b2c876deb43873b2b and 1,470 BTG to GfWUNAdW3aEXfQWshApFLf2ZNtMV9MC6VQ in TXID 37c8a8d59f61879cc0da9fa197ed72dbc967c796800d4015cafd47c7be467201 was redirected to GPTH48Z3diz4zwBGchXmzW3kDnmHVxyX2V in TXID a0dc721fff0948732679638f4b4bb713686786826971c3f9a30eb15f5694a0ea.
The majority of the coins were sent from outputs owned by the address Gdc4ANNdqyGBadobzUDZNydBgDHAYdMeAb.

That attack was stopped but still doable very cheap.



The cost right now is just 507 USD and you dont need to have miners, you can do all trough NiceHash.
BitcoinZ cost would be just 44usd on NiceHash but it trades shitty places not Binance like BTG.
Its possible that some exchanges will start dropping the coin since its not first time.
BTG Markets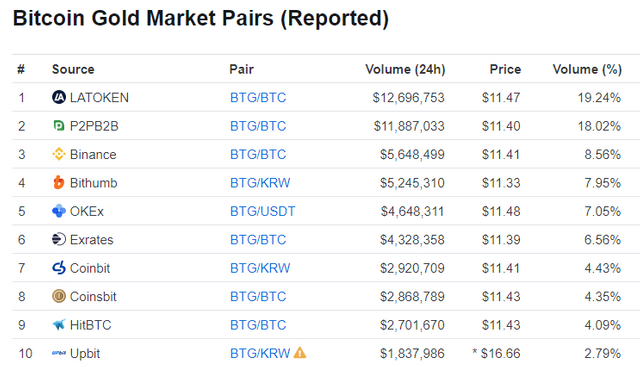 REAL WAYS TO MAKE PASSIVE INCOME FROM CRYPTOCURRENCY - DOWNLOAD FREE EBOOK NOW