Those who read from this blog already are aware of this blog's view of most social media trading analysis. Those who follow them mostly lose money compared to just buying and holding based on fundamental value analysis. An informal survey of cryptocurrency holders who follow trading analysts shows that many are losing to a simple strategy of simply HODLing bitcoins. What this means is that if you've been a crypto-investor for about a year and bought bitcoins in March 2017, then your investment should be worth about 10x in USD today. If they are not, then you are actually falling behind a HODL strategy. You are also likely doing worse than those that HODL other promising and/or useful assets in that span.
Much of the time the best strategy is to hold. Those who held through the 80% drop in 2014 are ahead today by about 10 to 12x. But then you got late into cryptos and you see those who did early and held back in 2011, 2012, or even 2016 and they are whales today. And you want to catch up some. So you follow trading analysts, day trade, margin trade, and fall further behind.
It might be wise to find assets of fundamentally strong value, analyze and understand them well and what gives them value, and then invest and hold (such as Steem, Dash, or ETH). This blog will be looking at some of those. Those solid picks will provide opportunities to potentially beat gains in simply holding bitcoins. And bitcoins itself still likely has much room to grow in the medium term.
But You Still Want to Beat Simply Hodling
Maybe there are some things you can also still do to accelerate your portfolio gains. This series will also be looking at some of those. The first one in this series will be burn tokens based on a real product and actual value. Burning of valuable tokens on a schedule reduces the supply. And this is an act of fundamental value that increases price (see prior articles for how this has been shown with data in the past.)
The Binance Token - Potentially Nearly Triple Your Holding Within About Two Weeks
This is a token with actual utility. Its use reduces fees on the Binance exchange significantly. So no serious investor on Binance would be buying or selling any asset without using that token to pay the fees. And Binance is the largest cryptocurrency exchange in the world. So yes this token is not like some ICO promising some product. This token has utility, and significant demand.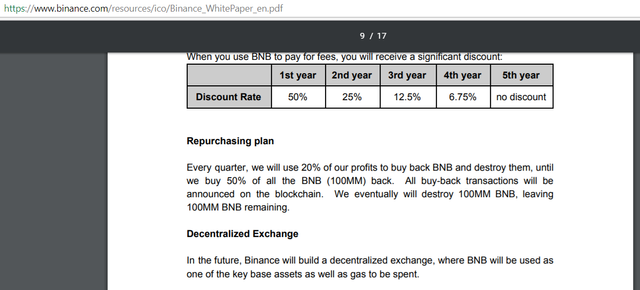 Source:
Binance White Paper
.
End of October 2017
Now based on Binance operating white paper, every quarter they burn a good portion of the token. In the first burn event at the end of the 3rd quarter 2017, 986k tokens were burnt: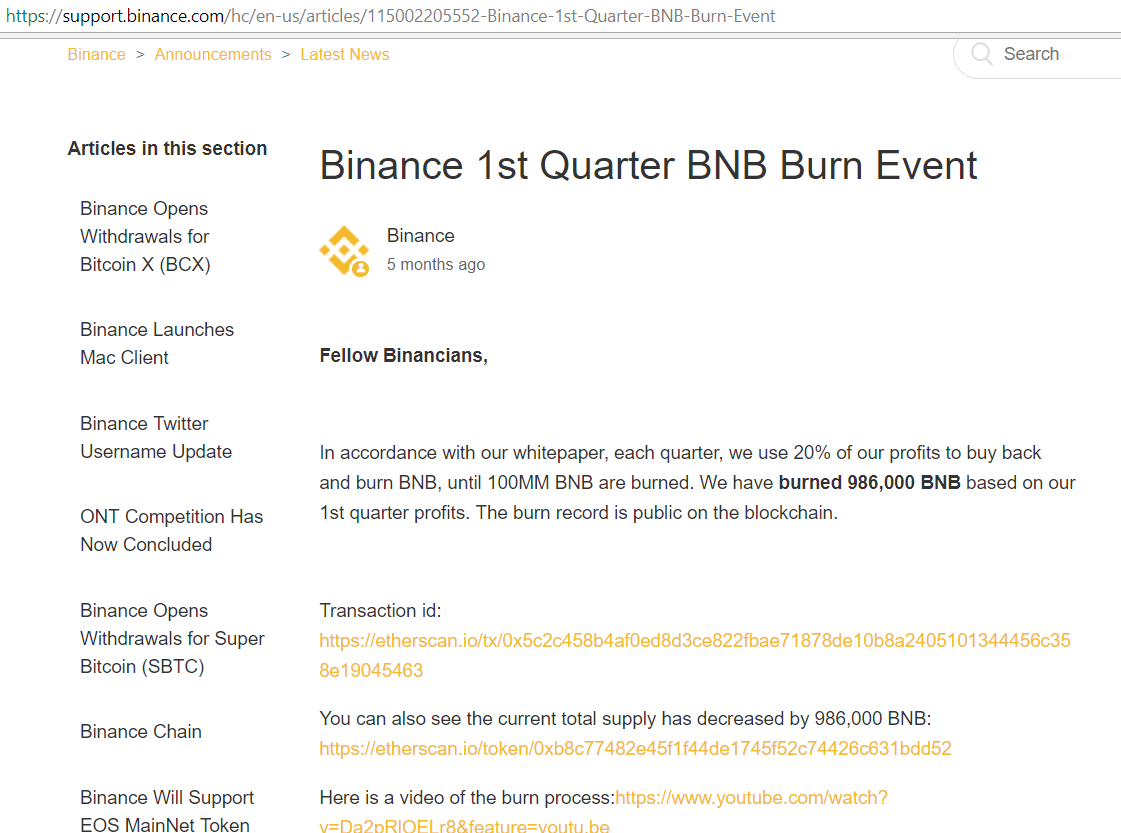 Source:
https://support.binance.com/hc/en-us/articles/115002205552-Binance-1st-Quarter-BNB-Burn-Event
And here was the price reaction through that event: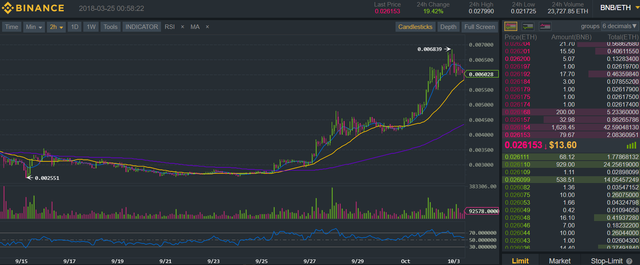 Source: Binance charts
There was about a near 3-fold increase from shortly after the middle of the last month of the quarter to about 3 days after the end of the month, where the price progressed from about 0.0025 to about 0.0065 per ETH.
End of December 2017
The next burn was at the end of December 2017 when 1,821,586 BNB were burnt:
https://support.binance.com/hc/en-us/articles/360000012892-Binance-Coin-Burn-in-2018-Winter
And here was the price reaction through that event: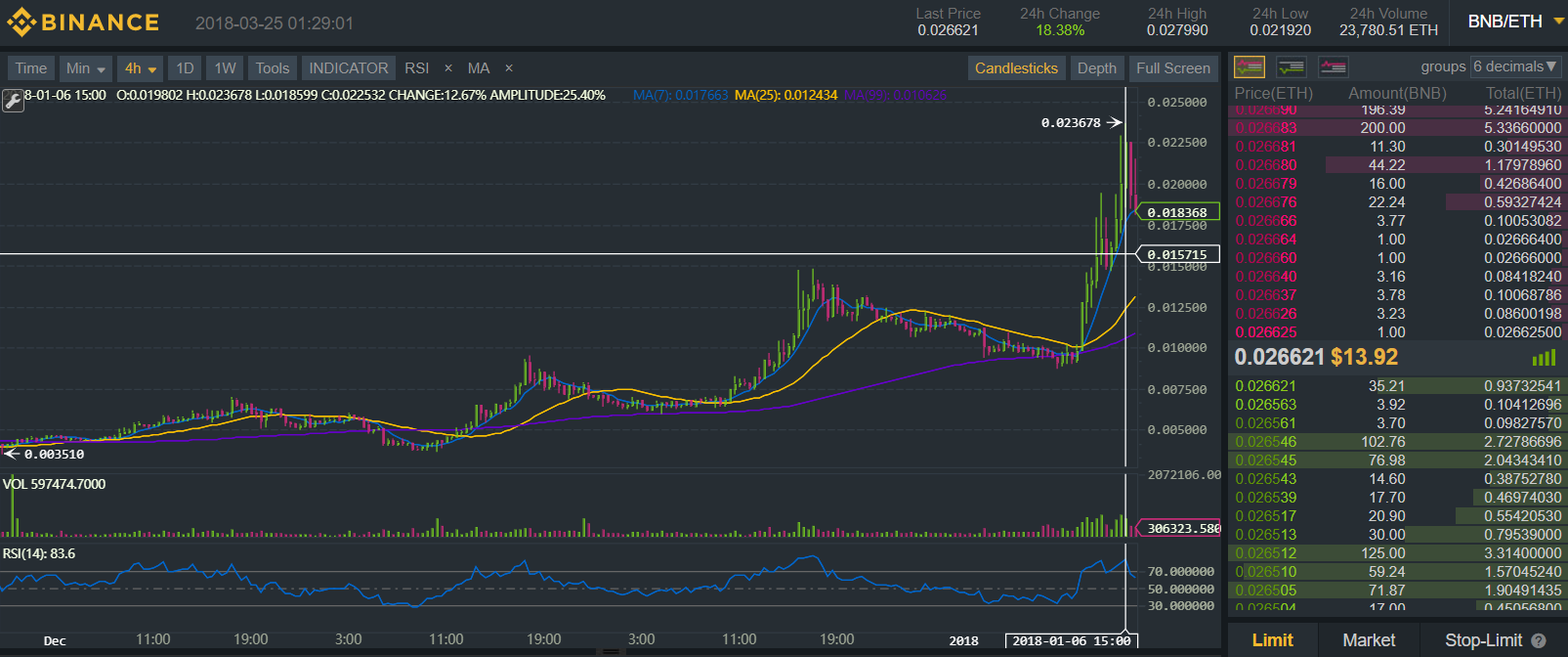 The price progressed from about 0.0065 around Dec 15th to about 0.023 by Jan 3rd 2018; a nearly 4-fold increase. Granted everything was also going up through that period, which should be factored into correlating the burn.
End of March 2018
The next burn is slated for the end of this quarter. It is likely already in progress as we see the usual rise that begins to occur as the token buy back begins to occur. And this is in defiance of the mostly downward swing of bitcoins the past few days! (In addition, Binance did also announce that they will be creating their own blockchain which could also have played a role in driving the price during this period.)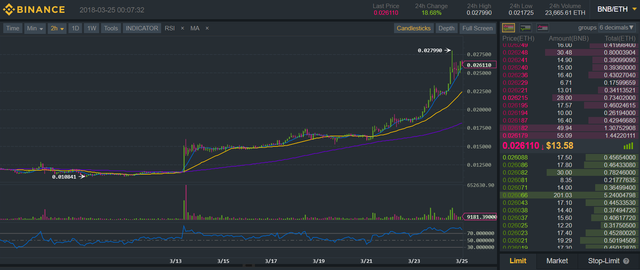 Warning: Past performance is no guarantee of future performance. A complete crash of crypto prices for instance, or any other event or even a none event could depress demand and cause the supply burn to not have as effective an increase in price as in the past.
Bottom line is this is a worthy potential to look forward to while trying to boost a portfolio without following analysis that are not based on fundamentals and actually are mostly wrong these days. As usual, be careful and don't go all in on any one strategy or asset if you can help it.
---
This post will not be promoted much. This is a reward for those who follow this blog. To incentivize such content simply upvote it 100% and resteem it. And engage in comments below - that is the reward to this author. Let me know of any strategy that you are employing that is currently beating a passive bitcoin hodl strategy, if any. All related comments are upvoted - you will see the same in all my other articles. Let's have an exchange and some intellectual fun.
Oh and if you resteem this article you get 100% upvote as well.
References
Binance White Paper: https://www.binance.com/resources/ico/Binance_WhitePaper_en.pdf
(For more due diligence)
Other Articles by the Author
Mar 17 2018: Lightning Was Released This Week – What Will be the Impact for the Bitcoin Network and the Cryptocurrency Market?
https://steemit.com/bitcoin/@kenraphael/lightning-was-released-today-what-will-be-the-impact-for-the-bitcoin-network-and-the-cryptocurrency-market
Mar 16 2018: Social Media Trading Analysts Are Likely Mostly Doing a Disservice to the Blockchain Community
https://steemit.com/bitcoin/@kenraphael/social-media-trading-analysts-are-likely-mostly-doing-a-disservice-to-the-blockchain-community
Mar 09 2018: Blockchain Technology Potential (Series 1) – A Review of a Recent PAYPAL CryptoCurrency Patent Filing and What It Means for the Future of the Technology
https://steemit.com/bitcoin/@kenraphael/blockchain-technology-potential-series-1-a-review-of-a-recent-paypal-cryptocurrency-patent-filing-and-what-it-means-for-the
Mar 07 2018: Audit the Teths – A Macro Case for Why Tethers Need to be Audited for Confidence to Return to the Market
https://steemit.com/bitcoin/@kenraphael/audit-the-teths-a-macro-case-for-why-tethers-need-to-be-audited-for-confidence-to-return-to-the-market
Feb 24 2018: A Review of a Few Fundamental Metrices that Drive Bitcoin Value and What They Currently Indicate
https://steemit.com/bitcoin/@kenraphael/a-review-of-a-few-fundamental-metrices-that-drive-bitcoin-value-and-what-they-currently-indicate
Feb 17 2018: Bitcoin Has Not Yet Fundamentally Recovered At This Time – A Mathematical Case
https://steemit.com/bitcoin/@kenraphael/bitcoins-have-not-yet-fundamentally-recovered-at-this-time-a-mathematical-case
Feb 12 2018: There is Little Chance Bitcoins can Sustain any Real Recovery Until This Fundamental Metric Begins to Turn Upwards Again
https://steemit.com/bitcoins/@kenraphael/there-is-little-chance-bitcoins-can-sustain-any-real-recovery-until-this-fundamental-metric-begins-to-turn-upwards-again
Feb 09 2018: This Single Metric Seems to Correlate More with CryptoAsset Values The Past Two Weeks Than Most Predictive Methods
https://steemit.com/cryptocurrencies/@kenraphael/this-single-metric-seems-to-correlate-more-with-cryptoasset-values-the-past-two-weeks-than-most-predictive-methods
About the Author
Ken has a doctorate in Engineering, and a master's in Computer Aided Engineering, An IT professional, programmer and published researcher with over thirty publications in various fields of technology, including several peer reviewed journals and publications.
Legal Disclaimer: I am not a financial adviser and this is not financial advice. The information provided in this post and any other posts that I make and any accompanying material is for informational and educational purposes only. It should not be considered financial or investment advice at all. You should consult with a financial or investment professional to determine what may be best for your individual needs.
This is only opinion. It is not advice nor recommendation to either buy or sell anything! It's only meant for use as informative, educational, or entertainment purposes.
---
Upvote/Resteem/Comment. All comments are upvoted. Everyone that resteems gets a 100% upvote on comment here or their own blog. Let's start a conversation and discuss strategies in these series.