CoinMarketCap silently removes Bitcoin.com
CoinTelegraph has been in charge of studying the cryptocurrency market, extending beyond digital assets, following the platforms dedicated to the collection of data for the construction of reports, such as the famous CoinMarketCap page.
The main cryptocurrency price tracking site CoinMarketCap (CMC) has removed the Bitcoin.com website from its Bitcoin (BTC) page as of May 6.
Although there was no official announcement from CMC, the price tracker eliminated Bitcoin.com as a secondary BTC site, evidently in the wake of recent allegations that Bitcoin.com was cheating customers to buy Bitcoin Cash (BCH) instead of Bitcoin. (BTC).
According to Internet Archive Wayback Machine, Bitcoin.com still appeared on CMC as Bitcoin's "Website 2" on May 2.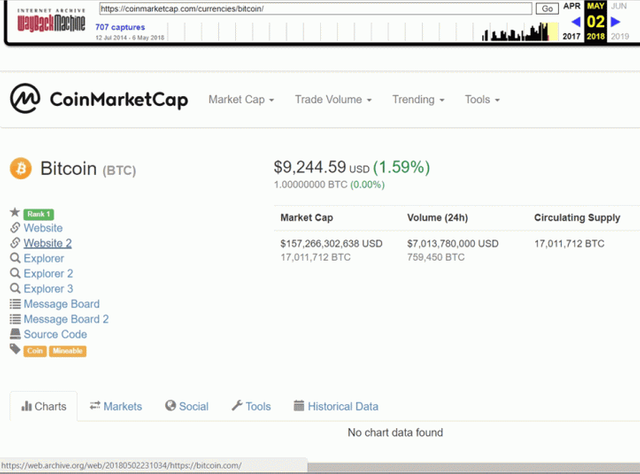 At the time of publication, CMC refers to Bitcoin.org as the only website that is included for Bitcoin.
The Bitcoin.com media and wallet service was created by the BTC investor, who became the BCH's proponent, Roger Ver. After the Bitcoin blockchain bifurcated to create Bitcoin Cash in August 2017, Bitcoin. com launched a cryptographic wallet that automatically creates BTC and BCH accounts, with Bitcoin Cash appearing first as the default option.
At the close of this edition, Bitcoin.com still offers BCH users as a default option, keeping BTC as a second option, confusingly called "Bitcoin Core", the name of the BTC software client.
On April 27, a pro-BTC user group created a site to raise funds for a lawsuit alleging that Bitcoin.com intentionally deceived users into buying BCH instead of BTC.
However, shortly thereafter, the founder of the movement announced that they could not raise enough funds to file a claim, and reimbursed those who donated to the cause.
Hours earlier, Cointelegraph reported that former Wall Street executive Michael Novogratz intervened in the battle between BTC and BCH over the 'Bitcoin' brand. In response to a tweet from BCH's Twitter manager @Bitcoin, Novogratz declared that BTC was indeed the real Bitcoin, saying: "Almost. Bitcoin Core is BTC. It's a stock store. It's digital gold. Bitcoin Cash is a dwarf market. "
Meanwhile, the CEO of Bitcoin.com continues to promote BCH as a "better currency" and "better value storage" than Bitcoin on Twitter.