Athena installs two new ATMs for cryptocurrencies in Bogotá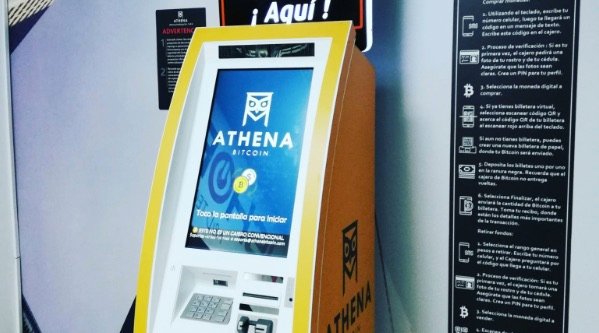 The company already has a total of four ATMs installed in the Colombian capital. As part of a special promotion, Athena will be giving a Litecoin to people who support the process of locating and specifying new locations for the next devices.
Athena, the creator and distributor of ATMs for the purchase / sale of cryptocurrencies, announced the installation of two new devices in the city of Bogotá, Colombia.
One of the new ATMs was installed in the Diver Plaza Shopping Center, located at transversal 99 with calle 70a - 89, Engativá, Cundinamarca. The other device is located in the Drugstore (Pharmacy) Rochem, on 16th Street with 14-29 career, in front of the Park of Journalists.
Athena ATM located in the Rochem Droguería, in front of the Parque de los Periodistas. Image extracted from Athena's Facebook account.
The new installed devices have exactly the same functionality as the ATMs located in the High Technology Shopping Center - located on 77th street with a 15 - 05 career - and at the Portobello Design Center - which is located near the Parque de la 93 -, so that users can buy or sell Bitcoin, Bitcoin Cash and Litecoin balances through the equipment.
According to Jhon Narvaez, representative of Athena in Colombia, the company plans to install more devices in the city, with the next location at the Galerias Shopping Center, on 53rd street with 25th street.
Remember that the only requirements to use ATMs is to present an identity document and have a purse for cryptocurrencies on your smartphone, although if you do not have it the device can generate a paper wallet to deliver a code with balances at buyer.
As part of a plan for the deployment of new ATMs in the city and in different parts of the country, the Athena team is offering the public the possibility of winning a Litecoin. To do this, interested parties should only contact the company through their official channels and support the process of searching for new locations for the next devices.
In addition to ATMs, the company also offers users the possibility to purchase purses for Trezor brand cryptocurrencies.
If you want to know in detail how to buy and sell balances through Athena ATMs in Colombia, you can read our review in which the necessary steps are detailed. You can access by clicking here.
For more information you can visit the company's social networks (Facebook / Twitter / Instagram), through which you will be publishing announcements and news.