The Price of Bitcoin Creates Negative Mismatch Formation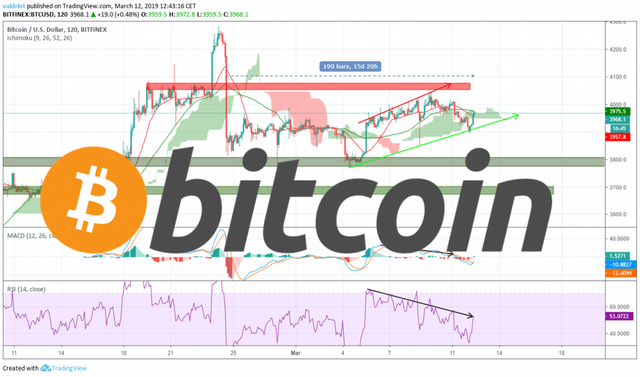 When we look at the BTC chart March 12, we see that the price of Bitcoin creates a negative mismatch formation. After the BTC/USD parity rose to $4,225 on February 24, the RSI and MACD experienced a sharp decline in sharp negative deviations.
When we look at the 2-hour chart, we see that prices fell sharply after trading at $4,250 for a short period. The decline was preceded by the RSI and MACD indicators. The reason is a sudden fall.
In this case, the RSI and MACD will notify you first. This does not happen at this time. The price jumped, and then lasted up to the support level of around $3,800. This momentum has been going on for 15 days.
When spelling news, Bitcoin on CoinMarketCap is worth $3,910. As for indicators, prices are now below the 21 and 50 day moving averages. However, prices found support for him near the 50-day moving average. On March 5, there was a negative mismatch in the MACD indicator. We might see a decrease in BTC/USD parity in a short time.
Besides that, MACD is in a downtrend and is now in a negative area. We see the same situation at the RSI. We see that the RSI is in a negative formation of incompatibility. Don't forget to enter stop-sell orders for any situation.