Great news for Encrypgen (DNA) holders coming up at the end of January! 
The CEO of the company will be presenting the Gene-chain to one of the biggest Genomics industry meetups of the year and will be using the opportunity to launch their first product, MyGeneChain. 



David Koepsell, CEO of Encrypgen will be speaking at 2pm on the 30th of January, the event takes place at 2pm on Tuesday the 30th of January in the ExCeL at The Royal Victoria Dock.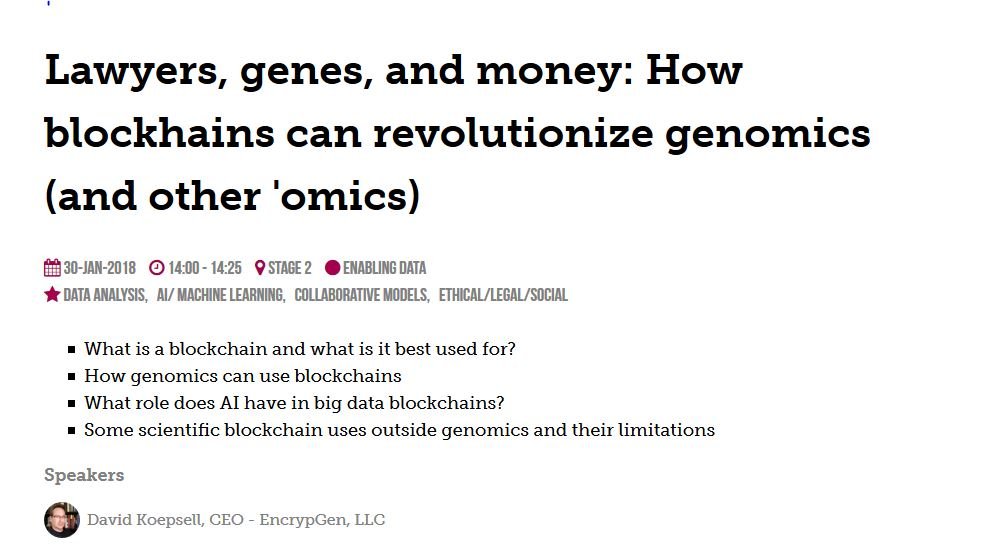 Encrypgen aims to create a new standard for the storage of genomic information with a focus on protecting individual privacy by utilizing blockchain technology to store personal information and user specific encryption keys to access this data. They are the first company to offer this service while leaving the individual user as the sole owner and controller of their own genomic data. This enables researchers to access a large pool of genomic data from anywhere in the world easily and also protects the rights of the individual owners of that data while allowing monitization of the entire process.

I'm excited to be attending this event and will be documenting the presentation and will post a report here on Steemit afterwards and hopefully get a chance to talk with David about the project.
The festival is totally free to attend but requires registration beforehand on the festival website.

http://www.festivalofgenomicslondon.com/register-now