On their Twitter Feed, Twitch announced that they are accepting Bitcoin as a form of payment.
Check it out: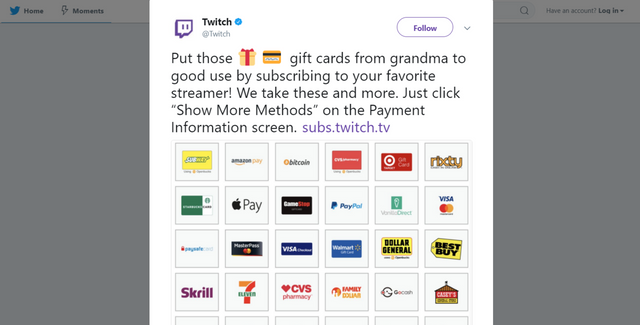 (Source: https://twitter.com/Twitch/status/951612212363264000/photo/1)
Right there, the 3rd one from the left, bitcoin is listed among a whole host of other gift cards etc.
A little about Twitch:
Here is a brief description from Wikipedia:
"Twitch is a live streaming video platform owned by Twitch Interactive, a subsidiary of Amazon.com. Introduced in June 2011 as a spin-off of the general-interest streaming platform, Justin.tv, the site primarily focuses on video game live streaming, including broadcasts of eSports competitions, in addition to creative content, "real life" streams, and more recently, music broadcasts. Content on the site can either be viewed live or via video on demand."
On top of that, as of Q3 2017, Twitch still remains the leading live streaming video service for video games in the US.
Not bad, but check this out: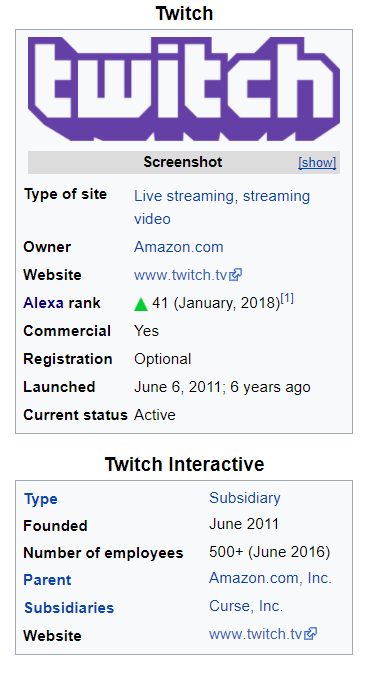 (Source: https://en.wikipedia.org/wiki/Twitch.tv)
Do you see what I see?
*Hint: Look who Twitch is owned by...
Why is this potentially significant?
As you probably noticed from my hint above, Twitch is owned by Amazon.
Which means, if Twitch is accepting bitcoin as a means of payment and is owned by Amazon, it probably isn't that far of a reach to think that perhaps Amazon may soon be following suit and accepting bitcoin as well!
A great step in the right direction in terms of bringing cryptocurrencies to the masses.
As more and more legitimate businesses start integrating bitcoin and cryptocurrencies into their payment options, the faster it will gain traction among the masses.
Stay informed my friends.
Follow me: @jrcornel