However, this time, he won't be spending 10,000 bitcoins on some pizzas.
Laszlo Hanyecz is the man that famously paid 10,000 bitcoins for two pizzas back in 2010.
At the time, it was said to be the world's first documented bitcoin transaction for a real world item. Bridging the digital world with the real world.
There is some debate as to whether it really was the first, but it certainly was the most famous.
Especially when you factor in that 10,000 bitcoins are worth just under $100 million at current bitcoin prices.
Why is Laszlo again buying pizza with bitcoin?
This time he won't be spending 10,000 on his two pizzas, instead he will be making the transaction using the Lightning Network.
If you are not familiar, the Lightning Network is a second layer built on top of the bitcoin network that will move transactions off chain. The result will be much faster and cheaper transactions.
It is said to be the altcoin killer, at least in terms of the payment altcoins.
However, it has been in the works, and coming shortly, for close to 3 years now.
Though, currently it does actually look like things are getting closer to the Network actually being somewhat close to being ready to use.
Some details:
Laszlo made the purchase by getting his friend in London to "sub contract" out the delivery to a local pizza place in order to use the Lightning Network.
He said he paid .00649 bitcoins for the pizzas, which is about $58 at current prices.
Pizza for bitcoin atomic swap software is not yet available so the transaction will have to be done a little differently than it hopes to in the future.
Laszlo showed the pizza delivery guy the last four characters of the hex string of his Lightning Payments hash preimage in order to match it with his.
If there was a match, the pizza would be delivered.
In this case it was and the pizza was delivered.
Him and his family can be seen here enjoying their pizza: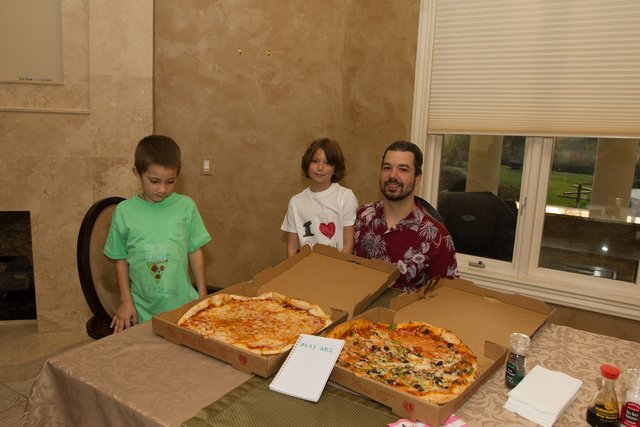 (Source: https://cointelegraph.com/news/original-pizza-day-purchaser-does-it-again-with-bitcoin-lightning-network)
This was just a rudimentary way of how the Lightning Network can be used to purchase real world items.
The exact process would not be copied, but the fact that it shows the Lightning Network can be used is a huge step in the right direction.
A quote from Laszlo stating as much can be seen here:
"The goal was just to play around with c-lightning and do something more than shuffling a few satoshi back and forth. Maybe eventually pizza shops will have their own lightning nodes and I can open channels to them directly."
"So is there any point to doing this instead of an on chain transaction? For what I described here, probably not."
In Lightning We Trust.
Stay informed my friends.
Follow me: @jrcornel