Over the past few years there have been numerous patterns that have emerged in cryptocurrency trading.
Usually working until everyone starts talking about them, then suddenly they do not.
The "rally every year on Consensus" pattern being a perfect example.
The one I am about to share probably follows that similar "pattern" (see what I did there?!). Meaning it works until everyone starts talking about it and expecting it.
This pattern has to day with bitcoin achieving significant highs and lows on the 6th day of every month:
That might sound crazy right?
Well, it probably is, but take a look at this chart of 2018 thus far: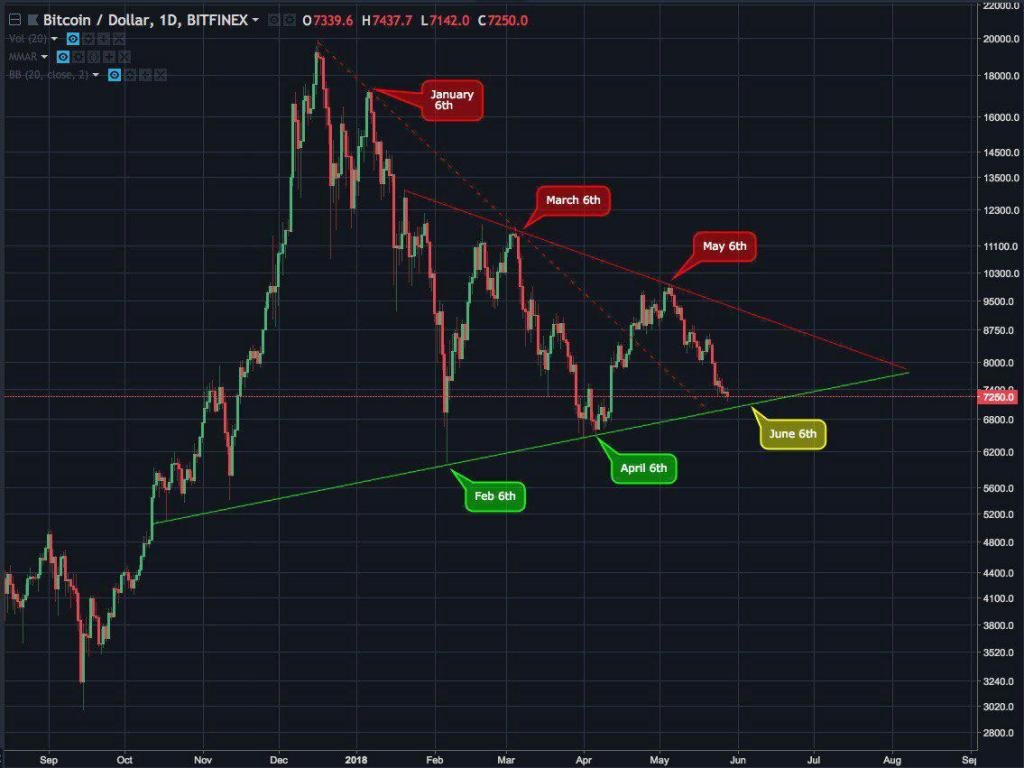 (Source: https://usethebitcoin.com/the-6th-pattern-on-bitcoins-price-coincidence-or-market-manipulation/)
Take a look at the data points:
January 6th - Bitcoin made its high around $17k for 2018 (thus far).
February 6th - Bitcoin made its low around $6k for 2018 (thus far).
March 6th - Bitcoin made a short term high around $11,500.
April 6th - Bitcoin made a short term low around $6,500.
May 6th - Bitcoin made a short term high around $10k.
June 6th - ?
That is a lot of data points to be purely coincidence!
If this pattern holds up we could expect to see bitcoin make a low of around $7k right around June 6th and then head skywards for the next month or so until July 6th where it would peak in the near term.
Coincidence or something more?
Given that a lot of trading is done by machines at this point, I would not be surprised if this is actually a tradable pattern.
Buy programs initiated at certain points or on certain days and sell programs initiated at other points/days. The US stock market has certain trends that tend to play out similarly for a while.
That being said, remember that this is not investment advice or something that an investment decision can be solely based on. It is an interesting pattern though, and one we will be able to see whether it plays out or not in just about a week's time.
Stay informed my friends.
Follow me: @jrcornel