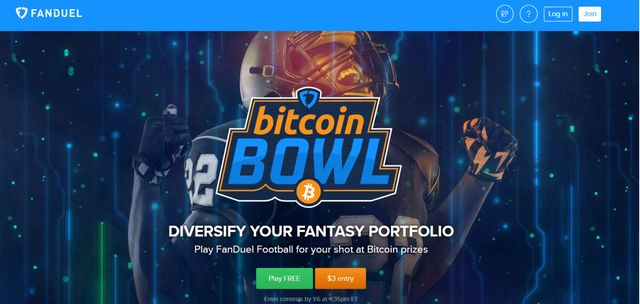 FanDuel is out with a new Fantasy Sports game that is offering prizes in bitcoin.
Sports?
Cryptocurrency?
My two favorite things?
Check and check!
FanDuel is offering a free fantasy sports game targeted at the NFL playoffs.
How it works:
If you are familiar with Fantasy Football, you will pick this up right away.
Basically, how it works is contestants will pick players from the pool of available players and based on how they do in their real playoff game this weekend, you will get points.
The better they do the more points they will score for your fantasy team.
Each contestant will have a fixed budget with which to spend on his players for each game.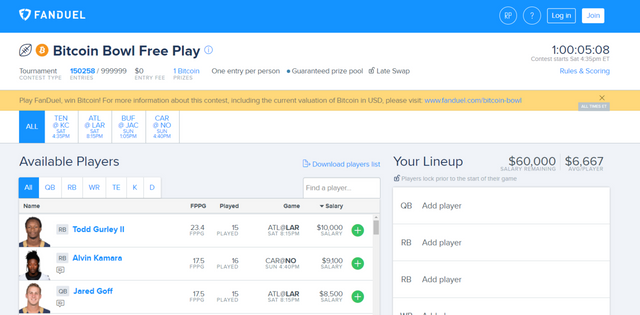 The better the player is projected to do, the more he will cost. It is not possible to pick all of the "best players" to fill out your roster so there will be some strategy involved to get the most out of your budget.
Then, once your roster is selected, it will be matched against thousands (millions?) of other lineups submitted from other contestants.
If your team happens to score the most fantasy points you win the prize!
What is the prize you may be wondering?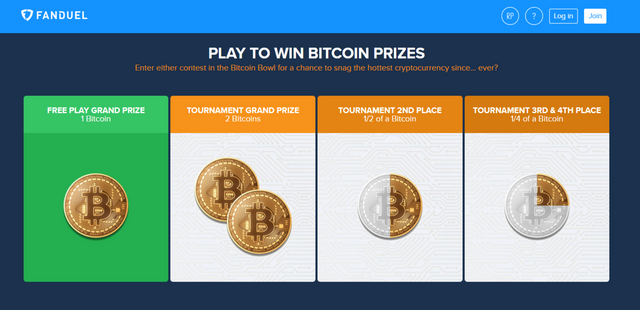 This is where things get a little interesting.
For the free game, the winner gets 1 bitcoin.
Yes you read that right, if you win a free fantasy sports contest that lasts one day, you could walk away with roughly $16k worth of value at current bitcoin prices.
Bitcoin for playing a sports game? It's too cheap not to play!
An example of a lineup that you might submit looks something like this: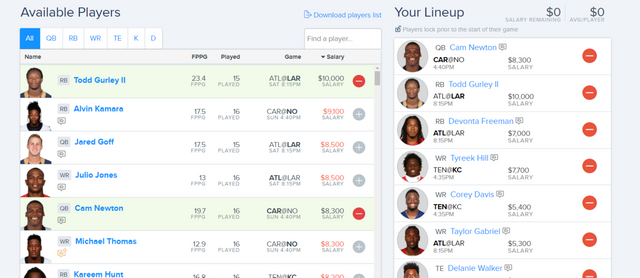 This is my lineup that I have put together for submission.
Pretty cool eh!
They also have contests where you can pay to enter and win bigger prizes.
Check out the link here for some more info:
https://www.fanduel.com/bitcoin-bowl
Stay informed my friends.
Follow me: @jrcornel