Bitcoin falls, and the Dow and S&P markets fall, bitcoin rises and stocks see a nice bounce.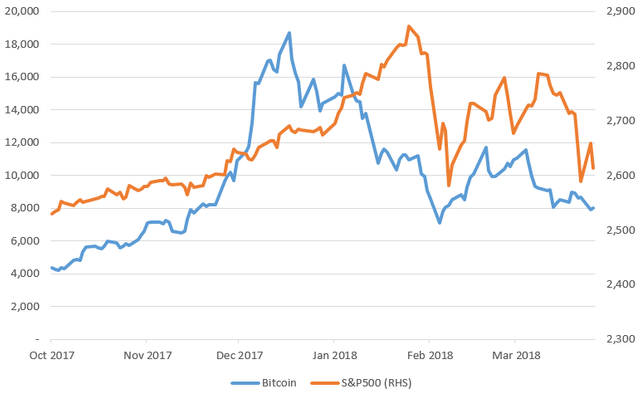 More so than ever before bitcoin and cryptocurrencies seem to be tied to what is going on with Wall Street, and vice versa.
If you haven't been following Wall Street much, it has been mostly taking it on the chin over the past few weeks, much the same way bitcoin has.
The reasons for this are mostly related to Trump, trade wars, rising interest rates, and a market that was already up substantially over the last year without any significant pullbacks.
Basically, it was ripe for some profit taking.
How does bitcoin fit in?
Well, if you go back to December of 2017, you will see that bitcoin peaked just under $20k near the end of the month.
A few weeks later, the Dow/S&P peaked as well.
Both saw significant drops in prices.
The price action can be seen here: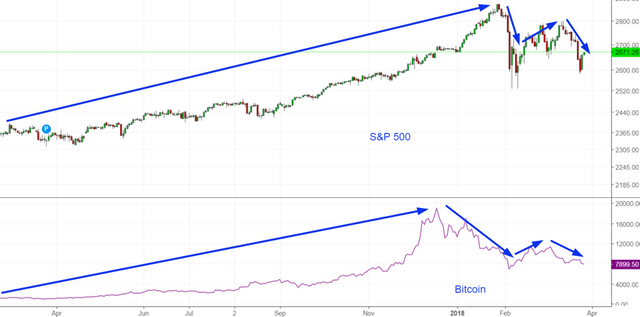 (Source: https://bullmarkets.co/stocks-on-march-28-2018-outlook/)
If you look very closely, you can see that bitcoin seems to be leading the price action seen on Wall Street.
To be honest, this makes sense.
As far as risky assets go, bitcoin is considered to be on the extreme end of the risky spectrum. Meaning that people are more willing to put money in it when times are good.
Now that a bit of fear is creeping into the markets, the appetite for buying things like bitcoin seems to have waned.
This is an interesting development because historically bitcoin has had almost no correlation to stocks, except for maybe a slightly negative correlation, meaning that it actually performed slightly better when stocks were weak.
What we have been seeing for the past couple months is different than what we have seen throughout the history of bitcoin.
Why is this happening?
This likely is happening because bitcoin and stocks are sharing more and more of the same on-ramps as well as more and more of the same investors.
Wall Street money is entering the crypto space for the first time ever and as we see more of that, the two asset classes are likely to become more and more correlated.
Given this new found environment it seems that getting things to calm down a bit geopolitically might benefit bitcoin as well as the stock markets.
Interesting times we are living in. It seems the environment is forever evolving and changing.
Stay informed my friends.
Image Source:
https://blog.bitmex.com/bitcoin-price-correlation-record-high-against-the-sp-500/
Follow me: @jrcornel