Bitcoin hoping to soon be at most ATMs in South Korea
The South Korean company Hyosung has announced a partnership with Just Cash to enable bitcoin buying at all their ATMs.
Hyosung is a billion dollar South Korean industrial conglomerate. It was founded in 1966 and operates in many fields. Including IT, trade, construction, and automotive.
Though, it is perhaps best known for its automatic teller machines.
Just Cash is a US based company that seeks to provide it's customers with secure and convenient access to cash using their own mobile devices.
Just Cash's stated goal is to bring the banking experience completely into the mobile world.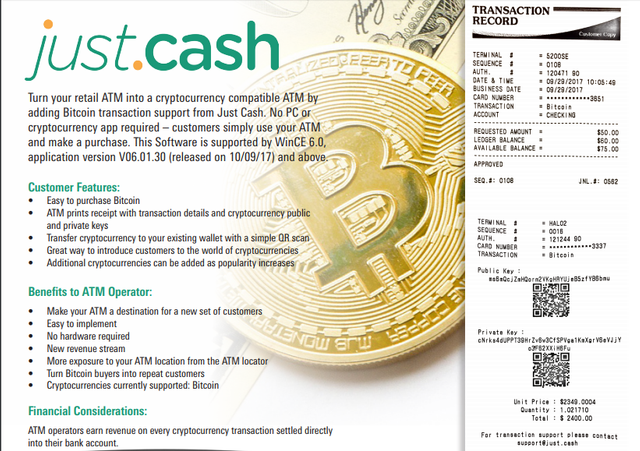 What this partnership means:
The partnership will enable any ATM client to access their bitcoin directly from an ATM via their mobile device.
They will be able to buy bitcoins directly from the ATM, and there is a stated goal of adding more coins to the list in the near future.
Currently there is no ability to sell coins directly for cash from these ATMs, but that is also stated to be a future goal of the partnership.
Hyosung hopes that this will be a great way to introduce customers to the world of cryptocurrencies. Especially as those taking a keen interest may not be as tech savvy as many of bitcoin's earlier adopters.
How will it work?
According to the release, once a purchase of bitcoin is made on the ATM, a paper receipt will be printed with a public and private key.
Funds will then be accessible via the scanning of a QR code from a mobile device, much the same way it is done at other bitcoin ATMs.
An example can be found here:
The plan is to add Ether in the very near future as well as some of the other more popular coins.
Also, the plan is to have the ability to sell coins for local currency in the very near future as well.
Things are getting exciting over there!
This, along with the news that South Korea is testing its Upbit cryptocurrency exchange tied to its Kakao platform, is very exciting news for the region, and also for cryptocurrency in general.
Now we just need to get some options set up to where customers can buy steem directly with fiat...
Stay informed my friends.
Sources:
https://cointelegraph.com/news/koreas-hyosung-now-supports-bitcoin-at-atms-will-soon-add-ethereum
video from https://youtube.com
Follow me: @jrcornel