Bitcoin is testing a key psychological resistance level at $10,000.
For a long time $10,000 was looked at as somewhat of a pie in sky lofty number that bitcoin would some day reach.
Much like $100k or $1 million is looked at today (depending on who you are, cough cough McAfee).
Then, when prices first broke that $10k number in late November of 2017 it was finally a reality.
Today, we are looking at breaking that number again to the upside.
This coming after hitting a high near $20k in December and then falling all the way to $6k over the last 3 months.
In South Korea and Hong Kong, bitcoin has already breached that $10k number this morning. Will the US be next?
The charts look to be saying yes!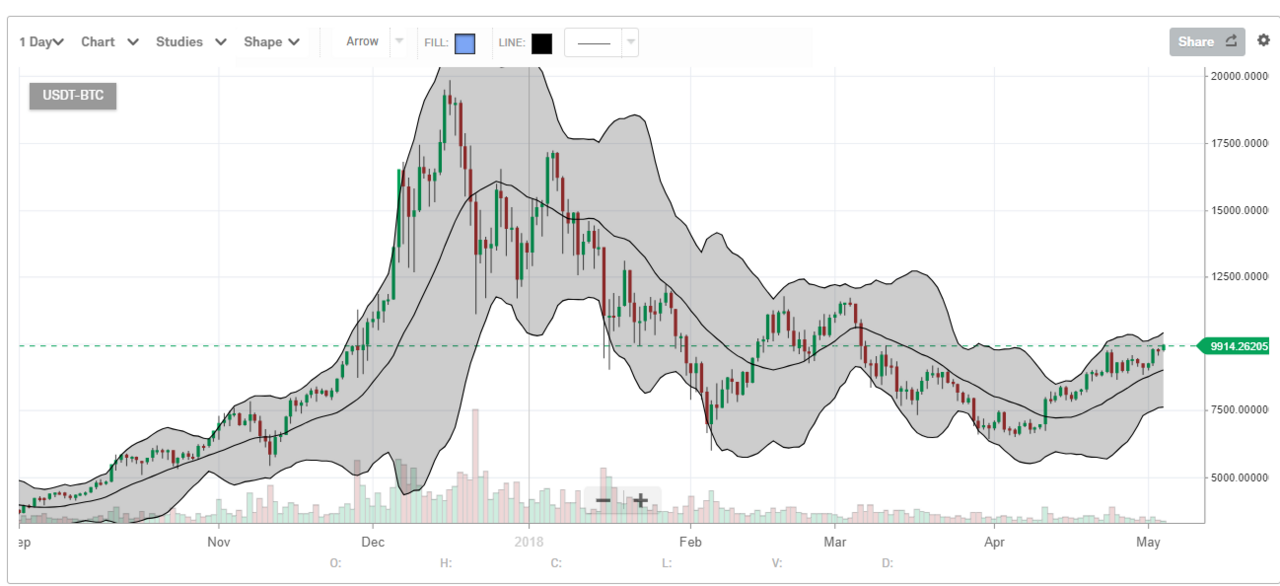 (Source: https://bittrex.com/Market/Index?MarketName=USDT-BTC)
Honestly, to me that chart looks like it is going to make a massive run and break that previous all time high, but that may take some time to play out, or it could happen in a few weeks like it did back in December.
What's causing the rally?
According to BKCM CEO Brian Kelly, this is just the beginning of the price surge and it is most likely being caused by the announced from Goldman Sachs the other day that they will be opening a bitcoin trading desk.
In his opinion Goldman is just the tip of the iceberg and more banks will be following their lead in the very near future.
Also the fact that regulators have stated lately that bitcoin is definitely not a security seems to have removed some of the regulatory uncertainty surrounding it.
That seems to have reassured some investors that were currently on the fence.
To put it even more bluntly, Charlie Shrem declared on twitter that:
"May 2018 will be the last time we ever see bitcoin under $10,000"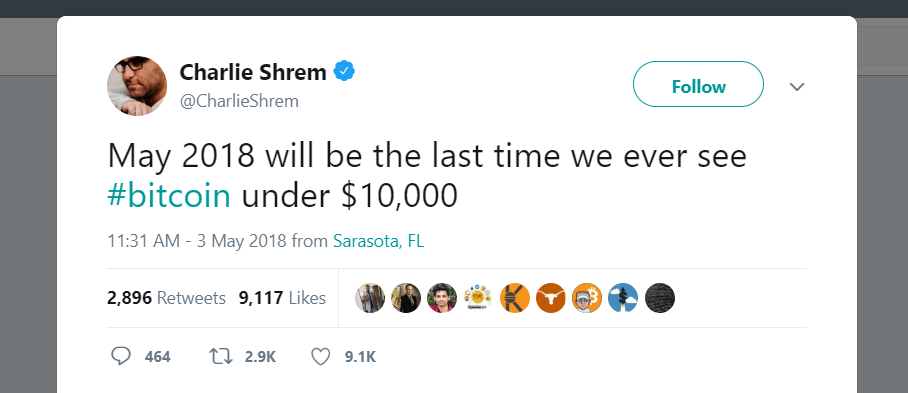 (Source: https://twitter.com/CharlieShrem/status/992109375555858433)
Not sure about you, but I like the sound of that!
How will this affect steem?
The only downside for steem and altcoin investors is that there is a possibility that if btc were about to go on a major run, it could pull funds from other coins.
It has happened on at least 2 other occasions in 2017 alone.
If that is the case could we see a sizable pullback in altcoins in the near future?
It's certainly possible, but even if that is the case, history has shown us that once bitcoin slows or stops running that the new found wealth often makes it's way back into altcoins, pushing them up higher than they were previously.
Which means, even if steem and some of the others experience some near term weakness due to the btc run, we could see them rally to new heights once bitcoin slows down and that money starts to seek out new investments.
Which means, overall, a bitcoin rally is good news for the entire sector!
Stay informed my friends.
Follow me: @jrcornel