It's easy to get caught up in the day to day, but try zooming out a bit
When in doubt, zoom out
With the recent crypto crash, it's easy to get caught up in the day to day price action, but try zooming out a bit.
On a day by day or even week by week basis bitcoin is irrational.
Heck, even on a month by month basis it can irrational.
But, when you zoom out a decade or more the trend looks pretty smooth.
It's something like this: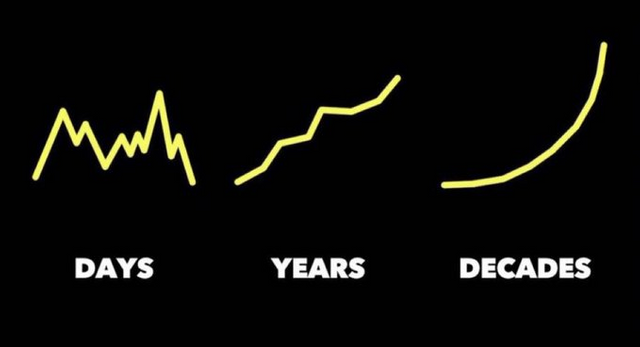 (Source: https://twitter.com/BTC_Archive/status/1467167449221148676/photo/1)
It's basically gone from the lower left to the upper right.
Sure, the valuation is much larger now and prices are much higher meaning it's going to take more and more money to continue this trend, which will surely flatten that trajectory.
However, the reason bitcoin matters hasn't changed and won't be changing any time soon.
Fiat money is being printed into oblivion with nothing backing it.
That will inevitable lead to a collapse.
Bitcoin provides a global off ramp from that system and many people will take it over the coming years.
Don't get discourage because bitcoin is a long game, even if things get rocky for a bit.