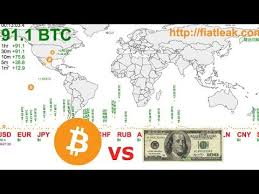 It looks like the Crypto currency Bull Run has officially started. Many were correct in January 2019 to call the bottom of Bitcoin and the general crypto market. All of us involved in crypto currencies had experienced a 16 month "Crypto Winter". The 16 months of a bear market was tough to stomach.
May1, 2019 seemed to be the start of the Bull Run. It was the first of the month that volume picked up slightly. It was a few days later that Bitcoin (BTC) started to gain $100.00 per day. In fact, BTC rose $2000.00 within 7 days during the first 12 days of May. I, watch Fiatleak.com daily. I have used this website ever since it first came out. The website shows the minute by minute purchases of BTC globally world wide in real time. You can also look up other crypto currency purchases in real time globally as well. For more than a year, the purchases of BTC was mainly from the U.S.A., South Korea and Japan. That was it (about 90% worth). Starting in May, other citizens of other countries started to pick up in BTC purchases. Countries like Brazil, England, Europe started to pick up the pace in BTC purchases.
Starting May 1st, Brazil started to have noticeable purchasing activity of BTC. Next I noticed England and Europe starting to purchase more BTC. The stream of purchases in these countries started to become constant. It was at this point (May 1st) that I knew a Bull Run was starting. Brazil purchases was my biggest clue. Why Brazil, I thought. Well, Brazil purchases were being done as a cloak. U.S.A. funds and other wealthy individuals were using Brazil as an "off shore" purchasing location. This increased Brazil activity showed me that something was up.
If you take a look at the website today, you will see non stop streaming of purchases in U.S.A., South Korea, Japan, England and Europe. Thailand, Brazil, Australia and even broke Canada is noticeably picking up. The Bull Run became official after BTC broke the crucial $6400.00 resistance. Yesterday, May 13th had the first BTC $1000.00 gain in a long time. It looks like BTC is growing more than $100.00 per day at this point. Will there be sell offs and dips? Of course. Traders and minors need to sell to take profits, however, the dips look like they will be minor. The dips seem to only last hours not days at this point.
A popular GBTC fund, just last month, had to buy 11,000 BTC to maintain its fund. That fund bought the same amount in the past 4 months combined. Notice how much they need to buy in order to keep up with demand? Wait until Fidelity, E Trade and Ameritrade start buying in monthly bulk. Do not forget that Bakkt future contracts start around July of this year! It is quite possible that by September of this year, we could see $200.00 to $500.00 dollar a day rises in BTC.
Next year in May 2020, we will see the Bitcoin halving. What does that mean? Well we will see BTC being mined from 12.5 per ten minutes to half or 6.25 every ten minutes. You may think that is still a lot of BTC but it is not. You see, just the investment fund GBTC would consume half that. What about E Trade, Ameritrade, BAKKT and the rest of the world's population? There is not enough BTC mined every ten minutes to keep up with the demand. It will be after May 2020 that we will most likely see BTC rising $1000.00 per day. This is how we will reach $1,000,000.00 per Bitcoin