Tsunami is coming. Watch for the Crypto explosion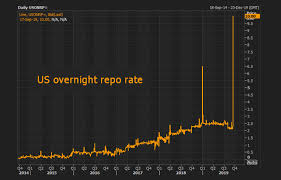 Quantitative Easing to infinity has started. The REPO market is off the chart. It looks like $75 Billion or more per day is being pumped into U.S. Banks and possibly other non U.S. Banks. What was supposed to be a "short term" stop gap until October 10th is now extended beyond November 4th. The Federal Reserve makes this announcement on a Saturday. Wow, a Saturday, really. Does this new money creation allow stock by backs? Is this a back handed way that the Federal Reserve is buying U.S. Equities?
Look Hong Kong is in free fall with bank runs. PMC Bank of India has collapsed. close to 1 Million people are locked out of their accounts for 6 months. This has caused millions of citizens to withdraw money from other India banks which have now restricted withdraws, causing the Financial Minister to make an emergency address. HSBC will be releasing over 10,000 employees as well as Deutsche Bank, Commerzbank an many more are letting employees go.
WeWork was exposed as a typical Unicorn fraud. JP Morgan was a heavy investor. Goldman Sachs lost a lot of money by not having their IPO. Softbank of Japan is finished. They lost over $60 Billion Dollars of Saudi money and over $80 Billion Dollars of Silicon Valley money. Look for trouble times becoming magnified by the end of this month (October 2019). Behind the scenes, there seems to be a jockeying of bank supremacy between Goldman Sachs and Morgan Stanley uniting versus JP Morgan and Citibank.
Crypto currencies, such as Bitcoin, will start to skyrocket. Ethereum, Litecoin, Ripple, Stellar Lumens, Bitcoin Cash, Cardano, Omesigo and many more will rapidly rise in value/demand. People globally, will be panicking into alternatives to Fiat currencies. Very soon, with zero warning, people will find themselves in a position where they either own and hold physical gold, silver or cryptos. If you are not in that category, look out. Beware, plenty of warnings have been given.
image from: motherjones.com