Federal Reserve has a new mascot. Buzz Lightyear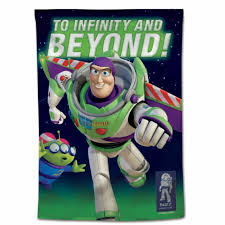 The Federal Reserve has a new mascot. It is Buzz Lightyear of Toy Story. Well this makes sense. The lovable character known as Buzz Lightyear was known for saying "To infinity and beyond". Well, this is exactly what the Federal reserve is now doing. Printing money (Quantitative Easing ) to infinity and beyond!
The banks are in their last leg of existence. The first clue was back in August 1971 when President Nixon took the U.S. Dollar off the Gold Standard for international trade settlements. That event allowed the Fiat currency to be (un) tethered and free to be printed into oblivion. The next clue was the economic collapse of 2008. Nothing has been addressed since 2008. In fact, the behavior has worsen since then. The global banking system is in free fall. The last clue for all of us to see was the introduction of negative interest rates. This concept is so foreign and unbelievable that it is not taught in any economic text books.
What will the future hold? Easy. Printing currency into the trillions, in other words to infinity and beyond. Yes the world made fun of Zimbabwe with their hyper inflation and their $trillion dollar note. Well, welcome to the European Union, United States, Japan and any other Central Bank in the world. The world will need to give Zimbabwe an apology for making fun of them and their $100 Trillion Dollar Bill.
What is the answer? Well, it is hard to say. Perhaps holding assets in your possession outside of fiat currency will help. Getting out of debt and having provisions stored may make sense. It may also be a good idea to get in shape physically, mentally and spiritually as well.
image from: pixar corporation