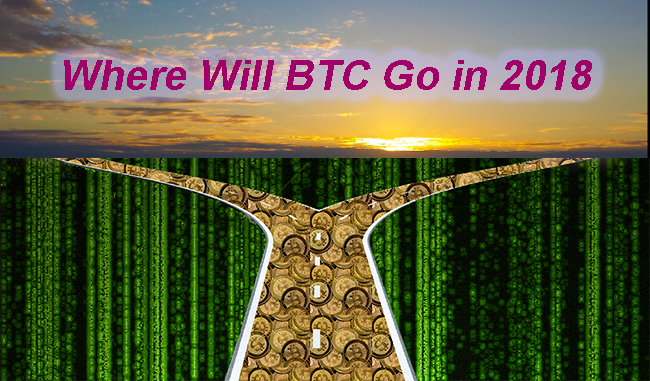 The price of Bitcoin has surged by 727% since new years day. With returns like that, and just over a month left in the year, it's safe to say that Bitcoin will be one of the best performing investments for 2017!
While 2017 will soon be in our past, there's no doubt that Bitcoin and cryptocurrency are the future. How often do you hear unexpected people telling you that they are investing in Bitcoin? I am hearing it more frequently than ever! The only question now is where will Crypto coins take us is in 2018?
I don't have a crystal ball, or a flying Delorean, so I won't try and predict the future. I can't tell you where Bitcoin is going in 2018, all I want to do is share what I plan to do with some of my Bitcoin in 2018.... and that, is lock it in!
My decision actually started in August because of this review of USI-Tech. At first glance, I had the exact same thoughts you are thinking right now.... 'MLM, really?', 'Totally looks like a scam'.
Anyway I guess I was lured in by the free to join no ongoing fees. To be completely honest I only opened the account so that I could take a better look at their back office and dashboard etc. Then I sent my 'referral link' to a friend to get his opinion, and a few hours later, he said he had bought a couple of bitcoin packages.
Long story short, his leap of faith, ended up earning me commission before I had invested any BTC myself. My first instinct was, to *'take the money and run', so I did. I withdrew whatever it was (probably around 10 Euros worth), to one of my external wallets.
When the funds from the withdrawal actually arrived in that wallet, I was somewhat pleasantly surprised. I was expecting to tell my friend how I tried to take funds out but they disappeared! A few days later I took my own leap of faith and bought 1 package, it was only 50 Euros worth of BTC why not take a chance?
Over the next month, as I saw the daily 1% payouts (5 days a week), I slowly gained confidence. Over time, I bought more packages. Fast forward form August to now, and this is what my first 5 USI [Bitcoin packages](https://70d959a9.usitech-int.com look like:


After 75 market days, and 68.46% in payouts, it's not quite 1% per day. I'm a little over half way through the 140 market days, and not quite half way to 140% in payouts. Having said that, I'm going to put this in the 'near enough is good enough' basket.
If you include the referral commissions with these daily payouts, I'm pretty sure I've taken out more than what I put in to buy these packages. Then again I also used some of the returns to buy more Bitcoin packages and I now own more than the 12 needed to activate more than one level of referral commissions.
Why Am I Talking About USI-Tech On Steemit?
I could be delusional, or sleep deprived, or both, but I see some similarity between USI-Tech and Steemit. The main overlap is what I'd describe as the Steemian mindset. That's right, I invent my own catch phrases!
What I'm seeing is that both USI, and Steem understand the financial importance of vested interest. Steem Power rewards us for locking in our rewards and committing to the future of Steemit.
In a similar fashion, USI-Tech offers rewards for committing to Bitcoin. Both Steemit and USI-Tech are trying to push the frontiers of what can be achieved with cryptocurrency. Both require a leap of faith and a 'lock in' time when you can see the value of your coin, but can't withdraw it.
Should You Invest in USI-Tech Bitcoin Packages
Hey, I'm not your investment adviser. At the end of the day, it's your money and your choice. If you're willing to take a chance on Steem, then maybe take a small chance on USI-Tech too. You can only lose as much as you put in (and that could be 50 Euros).
My personal experience over 4 months, is that they have been performing in line with their promises. I am slowly buying more packages and also taking out some along the way. If the whole thing turns out to be a house of cards, then I'll be a little behind (after additional package purchases), but I've only risked as much as I am willing to lose.
If it turns out that the house of cards was actually a house of stone, then I'll be more than happy that I decided to take the chance.