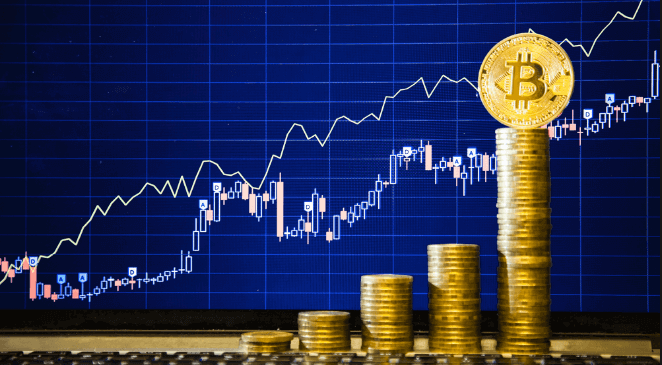 After reaching an all-time high on Monday, Bitcoin price has lost some steam today. The price of the first cryptocurrency has dipped on Tuesday morning following the crazy gains over the last few days.
Bitcoin price drops
Bitcoin price has dropped 1.28% against the USD to $2,282.77 at 7.45 AM BST. As of now, the king of the top cryptocurrencies is changing hands at $4287.06.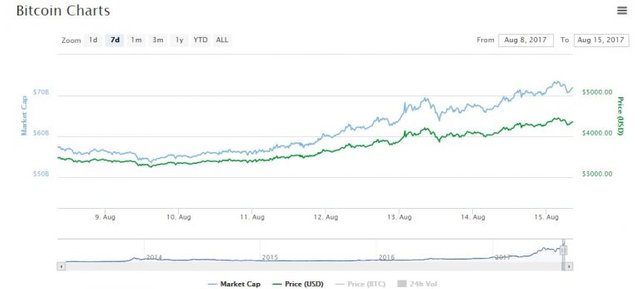 The Bitcoin price drop follows a few days of record gains. Bitcoin has broken through a $4,000 for the first time ever on Sunday morning. Then, the digital currency has continued to rise throughout Monday and early Tuesday morning. Bitcoin has peaked at $4,339.79.
The recent Bitcoin rally has brought the digital currency closer to a near-term top, according to the analysts from the US banking giant. Goldman Sachs.
Goldman Sachs Bearish Bitcoin forecast
The economists from Goldman Sachs believe that cryptocurrency is riding a 'fifth wave' of an impulsive rally that could push the Bitcoin price up to $4,827 in the short term. Such forecast comes from Sheba Jafari, the technical analyst from the US bank.
She has further explained:
"Once a full five-wave sequence is in place, the market should, in theory, enter a corrective phase. This can last at least one-third of the time it took to complete the preceding advance and retrace at least 38.2 percent of the entire move."
When the Goldman Sachs report was published, Jafari stated that the Bitcoin correction could drag the price of the digital currency back to around $2,221. Moreover, Jafari has stated that Bitcoin trades beyond $4,133 level correspond to "a level from which to watch for signs of a near-term consolidation."
According to Jafari's Goldman Sachs Bearish Bitcoin forecast, Bitcoin price would also drop below $2,935 "to signal that a top is already in place."
Bitcoin price Elliot Wave analysis
Even though technical analyst Jafari did not provide a name of her analysis, the five-wave principle analysis is largely known as the "Elliott Wave."
Notably, earlier last month, Elliot Wave Theorist Elliott Prechter has highlighted that Bitcoin is "making a final fifth wave from six cents." He has previously predicted the surge in the value of cryptocurrencies back in 2010.
Meanwhile, other analysts believe that Bitcoin price can reach crazy highs – forecasts vary anywhere from $5,000 to tens of thousands in the next few years. The states that the growing investors' appetite in the cryptocurrency market should drive the prices higher, given the limited supply of Bitcoins.