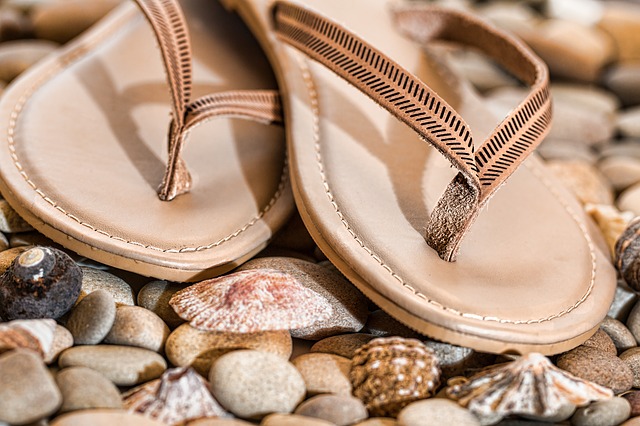 pixabay
One of the harshest critics of Bitcoin in Norway, Stig Myrseth, just became CEO in Kryptovault. Impressive flip-flopping!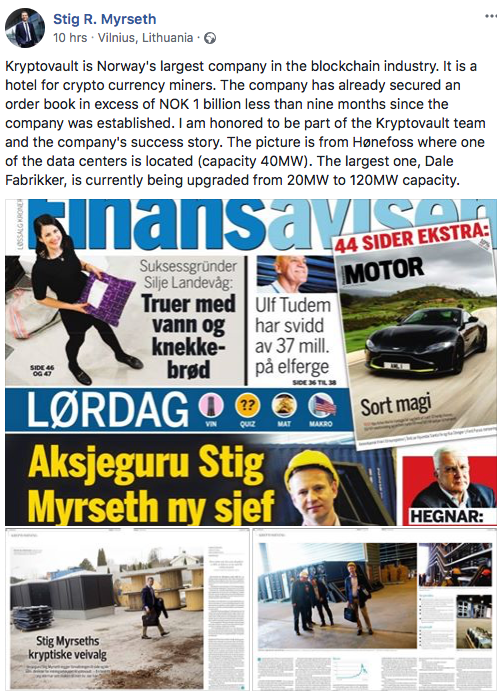 From cryptovault.co:
Cryptocurrency mining and data center services
KryptoVault is a Norwegian company that specializes in large scale cryptocurrency mining and data center operations. Our services consists of providing, installing, hosting, and maintaining hardware. Clients are welcome to reserve space and power at our current and upcoming facilities. KryptoVault facilities are powered with green and clean Norwegian energy sources from hydro-, and wind-powered turbines.
I do not really write this post to ridicule him, because it is ok to change one's mind, but I nevertheless find it important to document his lack of knowledge about digital assets while pretending to be an expert.
Personally, I do not consider myself an expert on digital assets at all. I am mostly in this space to learn, have fun and be ahead of the curve.
Perhaps I gave him a push in the right direction.
The Bitcoin price was 3763 USD 18.09.2017 btw.
From Xtrainvestor.com:
Autum crash in digital currencies
Posted by Stig Myrseth on Mon, 18/09/2017 - 05:38
Chinese authorities are now declining sales of digital currencies, which has triggered sales volatility and sharp fall in prices.
The total value of the three largest crypto currencies, Bitcoin, Etherum and Bitcoin Cash, is currently around $ 70 billion. Including all other digital currencies, the figure increases to 120 billion.
This is no insignificant sum as it corresponds to two percent of the value of all coins and notes in circulation in the world.
There are today a large number of digital currencies all based on the same basic technology, the blockchain. The advantage of this is that the development in the outstanding money supply can not be changed along the way. Everything is determined in advance by algorithms. For example, there can never be more than 21 million Bitcoins in circulation.
Furthermore, digital currencies can not be falsified. Secondly, free transfers are possible. Finally, they offer full anonymity.
Because of these unique features, there is no doubt that blockchain has a bright future. The technology may revolutionize both banking and capital markets.
Positive demand elasticity
In all bubbles it is a core of truth. Consideration about the underlying technology is an important reason for the interest in digital currencies.
Furthermore, there is often a positive demand elasticity in markets dominated by unprofessional investors. This means that price increases generate more buying interest which leads to further growth.
My guess is that the positive demand elasticity coupled with blockchain enthusiasm has led to a giant bubble in cryptic currencies, largely driven by Chinese speculators.
A characteristic of a successful currency is that it can be used for the purchase of goods and services. While Bitcoin was accepted in five of the five hundred largest online stores in the United States a year ago, the number is now down in three, and probably we will soon be null. The reason is that banks are becoming increasingly skeptical of having anything with digital currencies to do.
Most of the transactions in the Bitcoin market are today between speculators and no payment for the purchase of goods and services in the legal economy.
Supports crime
Where digital currencies have got a solid foothold as a means of payment, they are in the illegal economy. This is not just because transactions are impossible to track. Another advantage is that it is difficult for the police to seize them if you are arrested.
Here, it can be mentioned that Bitcoin is now the preferred remedy on the "dark internet" where drugs, weapons and other illegal products are traded. Digital currencies are also used for money laundering.
Because of the close link between crime and crypto currencies, it's only a matter of time before the government hits them. Several countries will follow China.
The future in digital currencies is not Bitcoin or Ethereum, but central bank sponsored or government-approved currencies. These will certainly not offer anonymity, but that's not just a disadvantage.
For example, theft through hacking could easily be recovered. Today there is no way to get back stolen Bitcoins.
My comment:
Suddenly Stig Myrseth became a Bitcoin expert: Jumping after Jamie Dimon in other words.
Well, BTC might be in a 'bubble' for everything I know, but seems like you are here drawing some logical errors.
"The future in digital currencies is not Bitcoin or Etherum, but central bank sponsored or government-approved currencies". Do you have any sources of this or is it something you've been philosophizing?
The point is that these are antifragile and decentralized systems that strengthen under stress (the network effect is getting stronger) as opposed to fragile and centralized systems (fractional reserve banking and fiat currency) that must be "saved" on a regular basis at high cost to society and with ever increasing debt burden. What about the internet, is it still a bubble? I can partly agree with you that blockchain technology can be disruptive and revolutionary in a number of industries, without the Bitcoin price necessarily going to heaven. How much X value is created is an independent variable from how many Y% of X value is captured. Ethereum is by far most used as a technology for making 'smart contracts' and is not used that much as currency. For example, the Kik app, which are used by 40% of American teenagers, has recently made its own token, Kin, on Ethereum. Full anonymity is also wrong, except for Monero and some other examples. Unprofessional Investors: I suppose that you mean 'professional investor' in the legal sense. There are more and more professional investors in the crypto currency. Most of the world's crime is happening in US dollars, the use of BTC by criminals is rapidly declining. Criminals are often quickest out using new technology. There is no argument per se against Bitcoin! By the way wrote this about BTC and antifragility: Bitcoin Is Antifragile: It Gains From Disorder. You might have a look at it:)
Thank you for your time and attention. Steem on!
Follow me: @janusface