Join DxChain to earn MORE by starting DxChainBot (https://t.me/DxChainBot?start=56rpyh)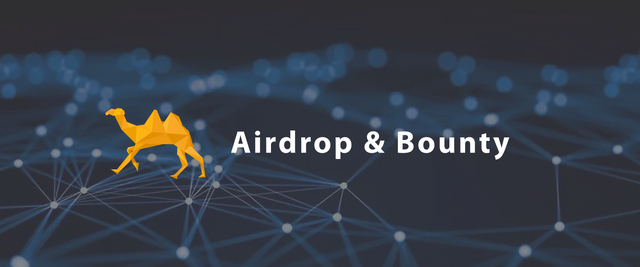 A tremendous amount of response from our global community has been received after DxChain's first airdrop program. Over 66,666 supporters come and join DxChain community. We really appreciate everyone's interest and support! At this moment, our main goal is to continue building up a powerful community behind DxChain. We are so excited to announce DxChain Airdrop and express our gratitude to believers.
Airdrop Period:
05/07/2018 PST/ 12PM — 05/17/2018 PST/ 2PM
$50,000.00 will be distributed to the DxChain community.
Steps to Participate
A. Join our telegram group, and get 500 points for FREE!
B. Invite your friends to join the DxChain group, and get 1000 points! (Maximum: 50,000 points)
Step 1: Send "/refer" to the DxChainBot (https://t.me/DxChainBot?start=56rpyh), and get your unique referral link.

Step 2: Share your referral link "I've got FREE points from DxChain! Join me and get your rewards here: XXXXXReferral LinkXXXXX" to friends.

Step 3: You will get 1,000 points once your friends join us by your link.
C. Follow us and RT our airdrop announcement to get 5,000 points!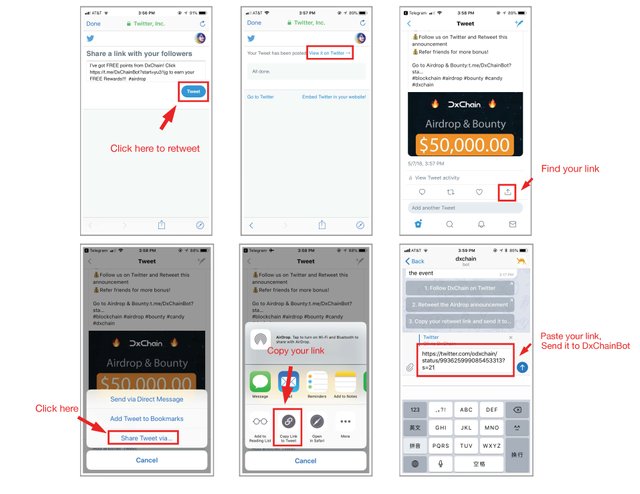 Instruction Video on Youtube

Airdrop General Rules
— In case any spamming or manipulation in form of fake account details, etc is found, DxChain Campaign Team is authorized to disqualify the participant and will now be not eligible for any rewards. All rights are reserved by DxChain Team for changing bounty campaign rules and regulations at any given time.
— The Airdrop rewards will be distributed to the participants in Telegram and participate can check the points in DxChainBot and enter /points. (You can claim the Twitter bounty rewards 5,000 points on May 18)
— Within 30 days after our token issuance, you will be able to redeem the points (100:1 points to DXC ratio). Minimum redeem requirements:10000 points.
— Anyone can participate in this airdrop.
— We have a way to find out if you have followed and retweeted our announcement, so you do not need to query.
— We have a way to record the accounts of all our members. So you can get only one reward, even if you join different DxChain Groups.
**About DxChain
DxChain — the world's first decentralized big data and machine learning network powered by a computing-centric blockchain.
With a unique chains-on-chain architecture design and several major innovations, DxChain provides a comprehensive solution for running machine learning algorithms and businesses intelligence on big data and keeping data privacy with security. Please find more information here:
Website: http://www.dxchain.com/
Telegram: https://t.me/DxChainGroup
Twitter: https://twitter.com/DxChainNetwork