I am sure all the traders out there will agree with me that you should measure your portfolio growth in BTC and not Dollar, but is this starting to change with the recent run we are experiencing on Bitcoin?
Although the image below is fairly old, we can still see how small the Crypto industry is in relation to the rest of the world.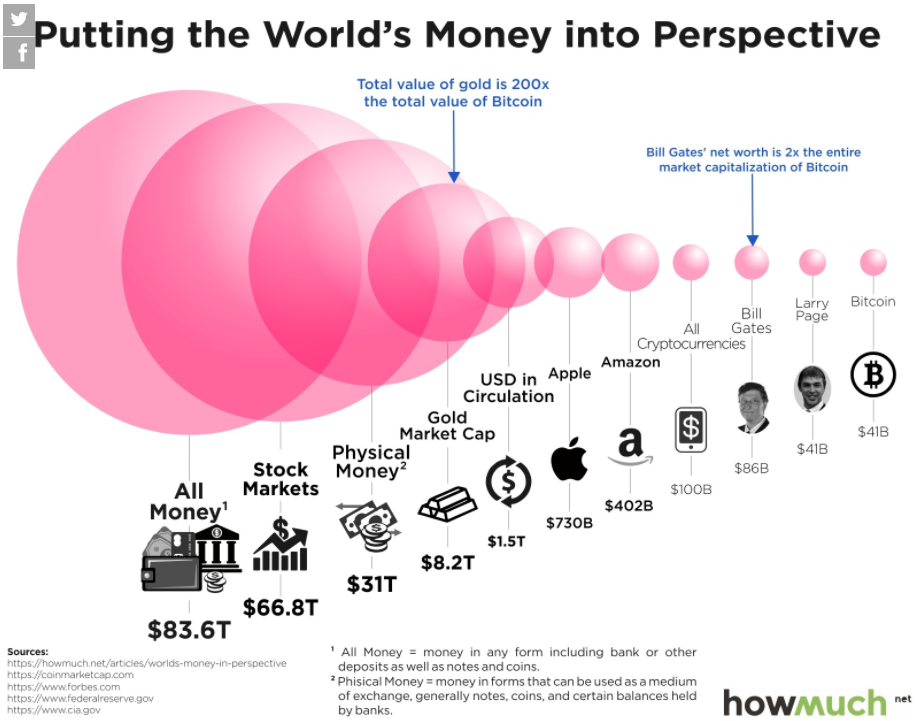 Image Credit
I have not been trading a long time, but if there is two things that I have learnt from the experienced traders out there:
Never sell a coin for lower than you have purchased it at.
Always measure your Blockfolio growth in BTC and not USD
Why measure in Bitcoin and not USD?
I think it is obvious to most, but I am still going to mention it. In my opinion, 1 Bitcoin will become worth more than any of us can guess at this point in time. When we look at the size of the global economy, there are many answers out there, but I found this great explanation in the form of an infographic:

The market cap of the whole Crypto Industry is still so small in the bigger scheme of things, that there is still an incredible opportunity for growth over the next few years. WHen more and more FIAT money will move into Crypto it should keep on growing. Please note that this is just a personal opinion, and not financial advice of any means.
Happy Steeming
---