Let's Make Bitcoin More Viable By Using It
Why all of the talk about 'trading' bitcoin and virtually no discussion about using it? If the Bitcoin/crypto community ever hopes to replace fiat currencies, the key to doing that is to not just use it like a get rich (or poor) quick scheme, but to begin using it like a currency. We have found that paying someone living on the other side of the globe (sorry flat-earthers) for their services is very quick, easy and cheap, not to mention virtually unknown to anyone but the two parties at either end of the transaction. Our bitcoin auction site, itcoinBay.com, was built in an effort to help the transition of bitcoin from high tech novelty to everyday currency. With our site, 'The Bitcoin Marketplace,' people can exchange products and services using bitcoin as the medium of exchange. There are also opportunities to actually earn bitcoin such as with our Referral Program and our Contest in which we will give away quite a bit of bitcoin and prizes as described in the following flyer.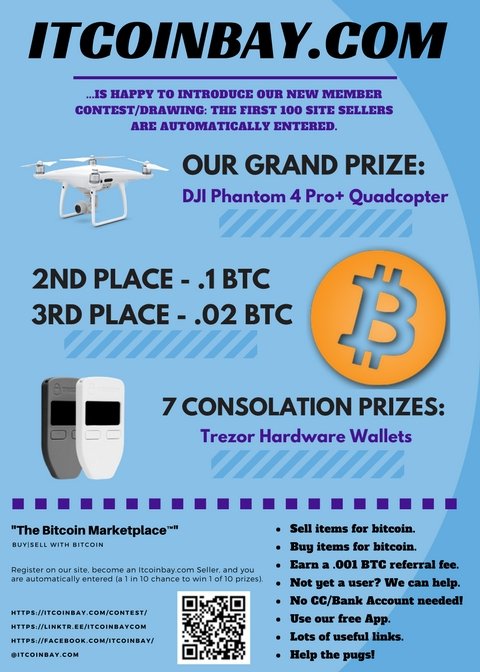 Now since we at itcoinBay.com do not attach ourselves nor our members to fiat currencies, bank accounts or credit cards, we have developed a fee-based system for the purpose of accountability. It would be great to be able to just trust everyone, but until society evolves to that point, for the protection of all participants we will practice the Russian policy of 'trust but verify,' by charging a modest fee for participation. In the age of $1000 cell phones, $5+ coffee and Washington, D.C., we don't feel at all apprehensive about this fee.
At our site, no 3rd party payment or conversion systems, downloads, platform installs, special wallets, etc. are required. We use only Peer to Peer transactions as envisioned by Satoshi Nakamoto. After all, is this is not how Bitcoin was intended to be used?
Please consider joining us and help us help Bitcoin turn the corner into the mainstream.