The Best Mining Site NiceHash.com OVERVIEW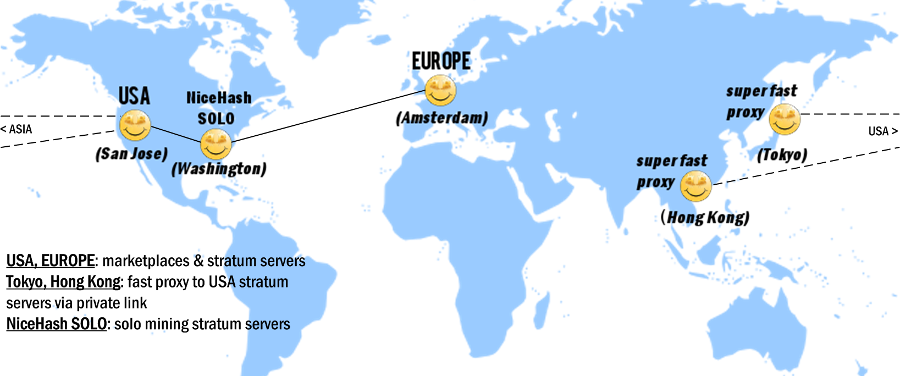 Service Overview
NiceHash offers you to sell and buy hashing power. Selling hashing power is as simple as connecting your miner to our stratum mining pools while buyers can buy hashing power on demand, on pay-as-you-go basis. Unlike traditional, often failed investment based cloud mining services, NiceHash provides purely technological advanced cloud mining experience. As a buyer you can put quick orders and rent massive amount of hashing power, point it to a pool of your choice and mine Bitcoins or any other altcoins such as Litecoin, Dash and other emerging digital currencies. By taking advantage of variable coins mining difficulty and smart trading you can make great profits with hashing power, rented through NiceHash service. Get yourself some massive hashing power right now!
Technology
NiceHash is built on state-of-the art infrastructure with presence all over the globe. We're offering two separate marketplaces: EUROPE and USA with high performance stratum servers. In addition to this we also provide super fast stratum proxies located in ASIA (Tokyo and Hong Kong). Our goal is to bring our service as close as possible to sellers (miners) and also to buyers target pools and thus provide excellent efficiency for hashing power sellers and hashing power buyers around the world. You're also welcome to checkout how exactly our service works
For Buyers
If you're buying hashing power make sure your target pool, used on buying order, is as close as possible to selected service location (EUROPE or USA) to achieve best performance. Also, keep in mind that there are different amounts of hashing power with different bidding prices available on each market - service locations (EUROPE and USA), therefore you should check both markets when submitting buying orders, since you might get cheaper hashing power on particular service location.
For Sellers
If you're selling hashing power, make sure to connect your miner to the closest stratum/proxy server to get best efficiency. Please note that you're paid at the current globally weighted average price - in other words - you're paid the same regardless on which location (stratum server/proxy) you're connected.