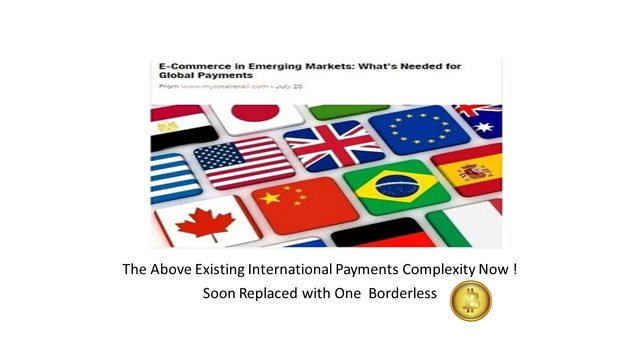 There's no future for bitcoin if the current banking system system works. If it's fair, efficient and works well then what reason is there for bitcoin to exist, to force change? There is none.
But for years it has been glaringly obvious from the huge and obscene bonus payments Bankers give themselves, that something is not right. Earned is the term they use. That's a laugh were it not so serious. Over-charging and Always & All ways - charging is more accurate.
The banks have only themselves to blame for the birth of Bitcoin. Necessity is the 'Mother of Invention' and competition was sorely needed as an alternative to the Greedy, Fat, Bloated, Inefficient Financial Bodies, and their 'You scratch my back and I'll scratch yours' cosy club.
On international transactions, things can be worse and even more inefficient. Banks use a system called Swift - Except it aint.Expensive, yes. Swift, NO
The Society for Worldwide Interbank Financial Telecommunication (SWIFT) is the global system that helps facilitate the shuffling of money around the world.
Travel abroad and the banks rip you off on currency exchange rates. They take a cut of commission from your transactions . They charge you for using ATMs,or even just making a purchase that isn't the currency of your bank account.
As happens with all who enjoy a monopoly position but abuse it, a competitive answer was needed and sought. It took much longer to find an alternative in this instance, but the final straw was the banking crisis in 2007.
It's surely no coincidence that Satoshi Nakamoto revealed Bitcoin and Blockchain technology to the world in 2008!
I think there is a place for existing but reformed national banking systems. With Cryptocurrencies as an alternative, the checks and balances that a healthy democratic system needs, is now there.
The people of the world – the average Joe and Jill – now have The Peoples Currency as an alternative money source, which will help to keep banks in check and costs down.
But for international transactions, it is obvious that -
A Cryptocurrency, decentralised, therefore independent of banks -
Borderless, therefore common to all countries -
Holds all the aces.
That's why Cryptocurrency is here to stay.