UBI-GoodDollar | CLAIM YOUR 20USD!
Looks like that Crypto Ocean is alive now. In the recent past, we have witnessed new platforms being introduced in the crypto space. Myself being a Crypto Enthusiast, I keep looking for opportunities to book my slot into the newly introduced solutions. Recently I am studying a new solution and that is GOOD DOLLAR
What is Good Dollar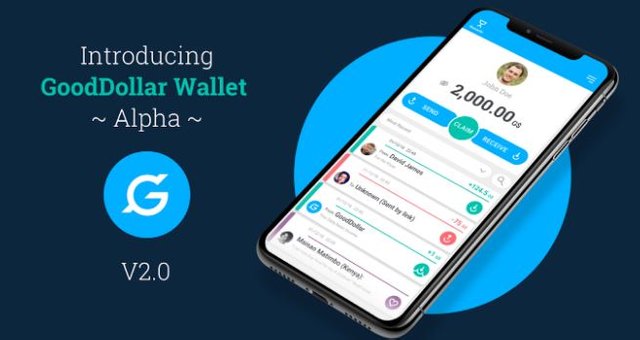 GoodDollar is a non-profit initiative sponsored by eToro that is determined to create a sustainable and scalable framework for bringing global universal basic income to the world through new digital asset technologies. The idea behind this tech is UBI (Universal Basic Income). It's a not-for-profit organization that builds tools and products for distributing universal basic income, specifically by leveraging blockchain and digital asset technologies.
GoodDollar's goal is to create financial inclusion and deliver financial literacy on a global scale.
Why GoodDollar's UBI Wallet Demo Is A Game-Changer
GoodDollar just released a test version of its UBI wallet ahead of the official launch of its UBI protocol and coin, the world's largest and most-funded UBI and blockchain experiment to date. In long-form, UBI stands for Universal Basic Income, and in short, it's an unconditional cash payment given to anyone regardless of social standing, wealth or income.
It's an idea backed by thinkers, economists and leaders across the political spectrum such as Andrew Yang, Mark Zuckerberg, Jack Dorsey, and Pope Francis and others.
The reasoning behind UBI is that if you give someone a sum of money to support basic necessities, it will not only advance them personally but also create a wave of economic growth for everyone else.
Why is UBI important now?
Global pandemics (ahem, Coronavirus) have brought to light how many of us feel the fragility of the social safety net, in both advanced and less mature economies
Income inequality is increasing at an accelerating rate and forever widening the gap between rich and poor
Technological unemployment threatens a fifth (20%!!!) of the world's global workforce. That's 800 million people!
Blockchain technology has facilitated the ability to create decentralized self-governed economies independent of old-world institutions.
What is the demo and how is it a game-changer?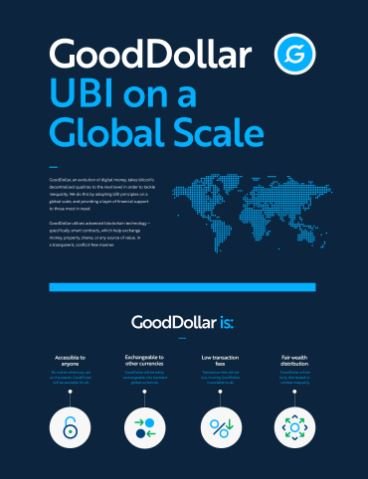 GoodDollar is pre-releasing a UBI wallet and demo GoodDollar coins for public testing ahead of its official launch later in 2020.
The objective of the demo is to let as many users test GoodDollar's UBI tools in order to optimize them for a full public launch.
Once launched, the wallet will allow users to claim UBI in the form of G$ coins (with real monetary value) on a daily basis!
This is a game-changer because it's the first real application of UBI on blockchain and unlike past UBI programs who were limited politically and geographically, it has the potential to scale across the globe.
Imagine a user in Rwanda or Indonesia or Brazil with a UBI wallet. If they claim even $30 of UBI a month (on average 15–20% of their salary) they could use that to pay for their monthly bus pass, phone bills, data plan AND even invest a little in digital stock. So now, not only is the user better off financially but also actively participating in the economy, creating marketplace demand, credit and growth.
Claim your GOOD DOLLAR coins now. You can sign up by using this link https://gooddollar.org/invite/sgE-AEHB9
Claim you Dollars now before its late! Have fun earning guys
Disclaimer: Above mentioned details are based on my own research and opinion, I do not encourage anybody to make their decisions based on this post. Every individual should do their own research before investing in any cryptocurrency or public sale.