Hello is it $ You are looking for?
It Looks like Crypto space is setting all up before a big Tsunami. Last week, when I was sleeping like a dog, my cousin called me up and told me about an event regarding Theta Token. He told me that there could be a chance to make some money. He was very excited about this event and that encouraged me a little but as you all know I am not known to disappoint my Brothers and friends, I took the call and invested in the Theta Token.
Now what happened afterwards can be understood with this chart below: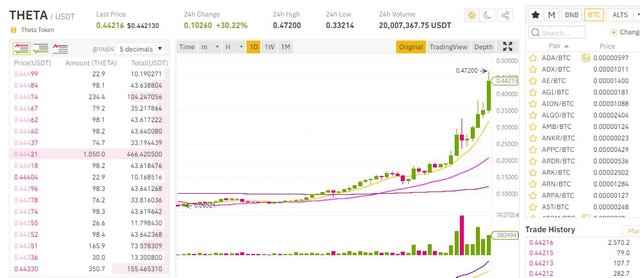 Well, I shall not say that I am a specialist in Crypto space but I am vigilant enough to sense the sentiment of Crypto investors. IIf I can make a prediction then I would say that we should not let ourselves carried away with the surge like this! Rather, It is the time to be more cautious while taking investment calls.
I am looking at the Global Financial scenario and also analysing the political situation which could either take Crypro space to new heights or could send it in a gutter for a while. In the end, all that matters is the coin in our pocket. Isn't it? Keep reading my blog and ask me questions and my opinions.
Take care and stay safe.