eFIN Decentralized Exchange Is Up And Running
So Efin is a decentralized crypto exchange developed by TokenPay.
The first 200.000 users will get a free sign up and 1000 efin coins added to their account.
However, if you want to upgrade to a partner membership that will cost 295 euros for one years membership (otherwise it will cost 590 euros) you will get the 100.000 efincoins added to your efin account, no trading fees, airdrop of future coins that will be added to the efin exchange, 100% referral bonus, and you also get 60 EFIN coins for every TokenPay coin that you are staking instead of 12. Thats 5 times more than a standard member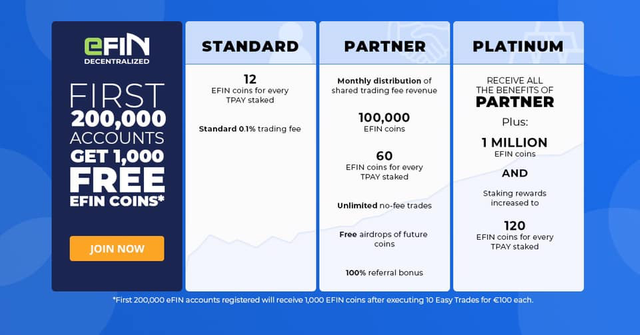 )
Great benefits if you sign up for the partner level.
As you can see I already signed up for the partner level and I am waiting for the 100.000 EFIN coins to be added to my account. If anybody wants to sign up for the partner level and are using my referral link, they will get a 100.000 efincoins and i will also get a 100.000 efincoins and to make that a fair deal I will split those 100.000 coins that I get in half with my referral.
Sign up for standard member is free.

)
Even if you are not planning to sign up for the efin exchange I would recommend you to check it out because this exchange have a great team behind it.