SUMMARY
NOTE: As of midnight on Tuesday the June 12th, the BitcoinLive Founding Membership enrollment will be closed!! If you have interest in further receiving Crypto analysis from @haejin and have received the enrollment email as result of signing up for the shortlist, please do so before midnight on June 12th!!
---
Bitcoin's (BTC) decline yesterday can be counted as an impulse sequence where wave 3 took place. Since wave 3 moves the most violently, the vertical nature fits quite well. Much of today will likely be used to complete waves 4 and 5. This means a probable lower low. The decline could also pattern out a downward pointing wedge (purple).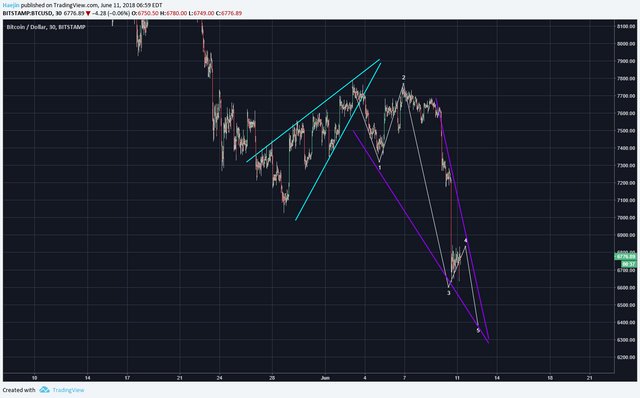 The wide scoped view shows the ZigZag (5,3,5) sequence still in play and should be at its terminal end. White wave 5 could also temporarily pierce the lower trendline. However, it shouldn't be decisive. IF this pattern is correct, this should be the last ABC sequence.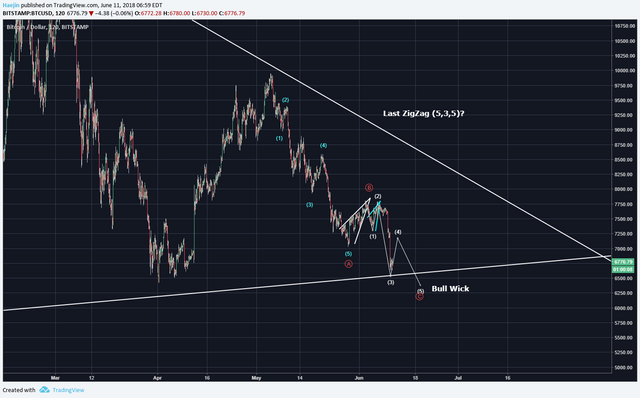 The longer term view shows the pattern that has been in play for the whole correction. The ABCDE count is correct with the E wave at the bottom trendline and not at the top. IF this is correct, then the bottom trendline needs to hold against any decisive breaching; though, it could temporarily be pierced.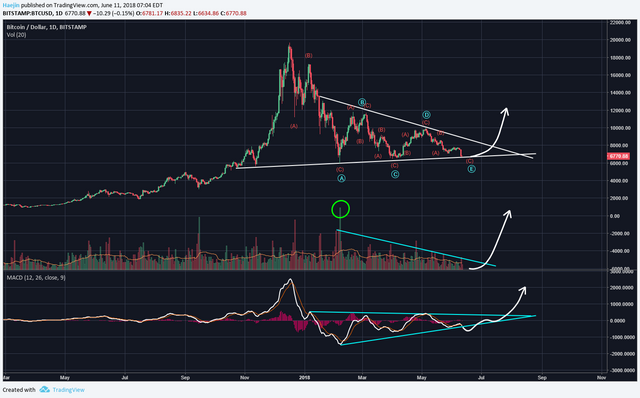 Legal Disclaimer: I am not a financial advisor nor is any content in this article presented as financial advice. The information provided in this blog post and any other posts that I make and any accompanying material is for informational purposes only. It should not be considered financial or investment advice of any kind. One should consult with a financial or investment professional to determine what may be best for your individual needs. Plain English: This is only my opinion, make of it what you wish. What does this mean? It means it's not advice nor recommendation to either buy or sell anything! It's only meant for use as informative or entertainment purposes.
--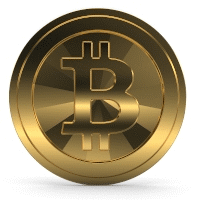 __